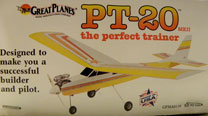 Here is my next build…a Great Planes PT-20 R/C trainer.
There is no question that I need a trainer in order to master the fine art of flying radio control airplanes. But which one to get…there are so many offerings and ways to approach this. I wanted to go with a traditional glow engine powered trainer and, given my desire to build models, it needed to be one that I could build myself as opposed to going the ARF, RTF, or 'foamie' routes. Deciding to go the traditional built-up balsa route narrowed the offerings down considerably. I then decided that I wanted a plane with 4 channel capability and one that would utilize the brand new in-the-box OS Max .15 R/C engine that I had. This engine is from the 1970's but has never been out of the box and so I decided that I wanted to make use of it instead of incurring the expense of buying a newer 'modern' engine. So, my selection of kits was reduced further by finding one that would be able to fly with the engine I had.
The Great Planes PT-20 fit the bill on all counts. So the kit was secured and I am very pleased with it! The quality of the balsa and laser cutting is superb and the instructions are fantastic. They would make a great introduction to model building techniques to anyone who is new to the hobby or has never built their own kit in the past.
I expect that this kit will take me the entire winter to build but that is not a problem as the flying season is almost over with for this year. My goal is to have it ready to fly come the start of the 2014 flying season. I have a couple other planes that I also intend to work on over the winter months so it should be a busy building season and I am looking forward to it!
This FlyBoyz thread will be devoted to documenting the building and flying of this plane. I will first start off with a series of photos displaying the kit, it's contents, plans, and the engine that I will be using to power the plane.
I hope you enjoy following along and please feel free to share your comments!
(Click on any photo to get a large image with higher resolution)
PT-20 Kit Box

PT-20 Kit Contents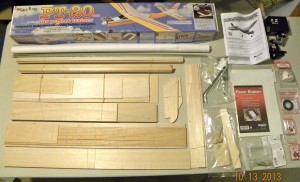 O.S. Max .15 R/C Engine (vintage 1970's!)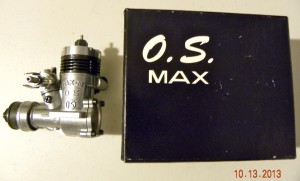 PT-20 Plans – Sheet 1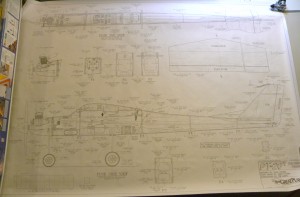 PT-20 Plans – Sheet 2