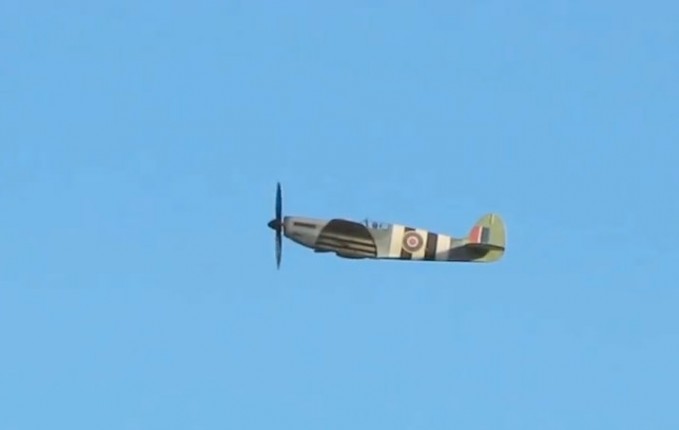 The Flying Aces Club Nationals (FAC NATS) competition is coming up next week (July 16 – 19) in Geneseo, New York and I am looking forward to it! I won't be able to attend all the event days but I will be there on Friday and hopefully will return again on Saturday.
FAC NATS, July 16 – 19, Geneseo, New York!
And I will have my Kharkov R-10 with me! Yes, repairs have been completed and while this model is a recent build, it is already looking a bit battle weary! Here is a couple before and after photos of the damage the model received from its motor blowout two months ago and the resulting repairs I made.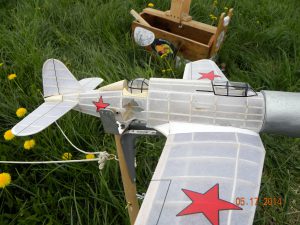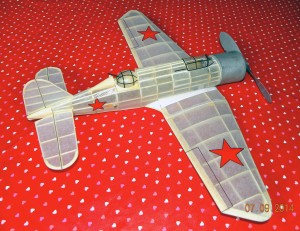 While I don't expect the Kharkov to be competitive and I don't plan to enter it into any events, I am looking forward to getting it up into the sky and having a few successful flights with it. With all the free flight experts there at Geneseo, I'm sure I'll have plenty of help accomplishing that goal.
Look for my event coverage (with photos and video!) of the NATS here on FlyBoyz!
---
In anticipation of the upcoming FAC NATS, I am pleased to present the following videos which give a prelude as to what can be expected in Geneseo. The level of craftsmanship on this model Seafire and the resulting flights are wonderful. I hope that watching these videos encourages some of you who may not otherwise be inclined to check out the FAC NATS to do so. I know that I am looking forward to seeing this Seafire and all the other great free flight models in person in Geneseo!
This 27″ Seafire free flight model was designed and built by Tom Hallman. My thanks are offered to Tom for sharing these videos and this information on YouTube for all of us to see.
The model was built from Tom's own plan based on a 3-view.
Documentation comes from the 'On Target Profile #5' by the Aviation Workshop Pub.
All of the tissue was pre-painted. It was air-brushed with Americana Gloss Enamels, an inexpensive acrylic enamel found in many craft stores.  The panel lines were then drawn on with Copic pens while the tissue was stretched flat. The text was printed via inkjet, then lightly brushed with black acrylic enamels to deepen the value.
The model weighed in at 54 grams, with another 20g for the rubber. But the ballast monster took hold, adding another 24g, so she's now a hefty 98. But Tom is still liking the way she looks in the blue. Ballast-schmallast…..
A 'gurney flap' was added to the starboard wing. Tom

had just steamed in 3/16″ of washout on both tips, but she still flew hard right. So he added the gurney, a bit of clay to the left inboard wingtip, and a little left rudder.

She uses two loops of .187 (3/16″) x 40″ rubber and a stock 10″ white E-B prop.
This first video is a series of photos and videos showing the building process of the 27″ Seafire.
This second video documents a series of 3 trim flights by the 27″ rubber-powered Seafire at Barron Field in Wawayanda, NY. The 3 flights were of 780, 1,400, and 1,720 turns of the flight rubber. Max turns is around 2,150.
I'll see you in Geneseo at the NATS!