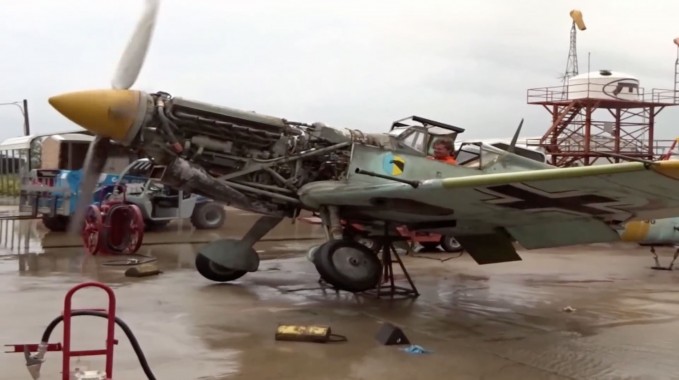 There has been an update on the status of several of the warbirds for sale from the Connie Edwards collection located in a barn on the Edwards Ranch in Texas. I recently posted the original story here in FlyBoyz and am now posting this update.
The collection included six Hispano Buchons (essentially the ultimate version of the Messerschmitt Me-109) all of which appeared in the 1968 movie "The Battle of Britain". Boschung Global Ltd., based in Switzerland, has acquired the six Buchons and will have them restored to factory-new condition over the coming years. They plan on keeping the sole surviving two-seat example, and also a single seater, for themselves. 46 Aviation SA will operate these two aircraft from their facility in Sion, Switzerland, while the four remaining Buchons will be sold on to new owners; a number having already been spoken for. 46 Aviation is known for flying several vintage aircraft, including a Yak-9UM and C-3605 Schlepp, on behalf of Boschung Global.
In mid-September, one of the Buchons ran its engine and cycled the main gear for the first time in over 40 years, after a small group of mechanics pulled her out of a hangar on Connie Edwards' vast estate in Big Springs, Texas. After a bit of cleaning, and a lot of TLC, the big Rolls-Royce Merlin sprang to life with little complaint, and ran smoothly according to all reports.
In addition to the video, you can click here for the full article along with additional photos of these planes. If you have any interest in aircraft restoration, WWII warbirds, or aviation in general, you will enjoy this read! Messerschmitts Out of the Barn
My acknowledgements and thanks to Warbirds News (www.warbirdsnews.com) for the video and article.