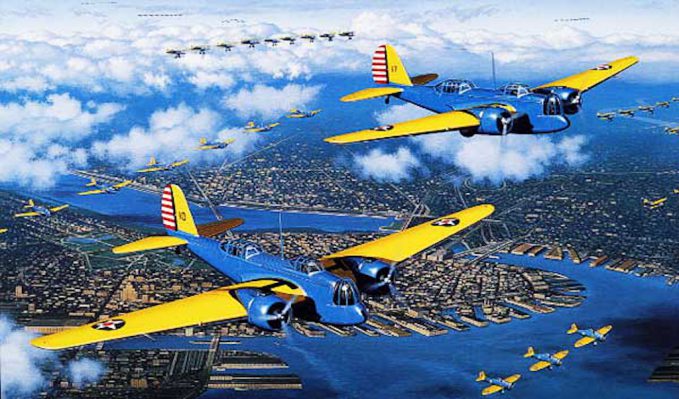 I am not sure why I feel compelled to do this. With no less than 8 model plane projects already in the works, I feel compelled to begin yet another one.
A few years ago, I purchased a set of building plans for a Martin B-10 Bomber. These plans, and the accompanying magazine article, originally appeared in the January 1981 issue of Model Airplane News. I have a particular affinity for planes from the 'Golden Age' of aviation (i.e. the 1930's) and when I saw these plans, I was struck by them so I purchased a copy with the intent of building the model plane some day. The other day, those plans reached out to me once again and this time they are compelling me to actually start building the model.
The B-10 itself could be considered 'ugly' by some, and it hit me as very odd and ungainly looking when I first saw it. But in it's day (1932) the B-10 was considered state of the art and won a Collier Trophy for its design innovations which made all existing bombers completely obsolete. Design features of the B-10 included an all metal monoplane airframe, closed cockpits, retractable landing gear, internal bomb bay, full engine cowlings, and rotating gun-turrets. All these features became standard for bomber designs worldwide for decades after the B-10 introduced them. So, ugly or not, I found the design to be intriguing and determined that I wanted to build one some day.
The model itself is a full fuselage Control Line plane with a 52 7/8″ wingspan. a wing area of 382 sq. in., a length of 33 7/16″, and a design weight of 3 1/2 lbs.. It is designed to be flown with twin .35 glow engines. The fuselage is planked and the wings are balsa sheeted.
There are elements of this build that will challenge my model building skills and I am looking forward to that. Not the least of which is the fact that I have never built a scratch-built plane before! There is also a lot of custom canopy molding for this plane that will be a first time experience for me. Pictured here are the plans that I will be working from. They are large enough that they cover the entirety of my 5.5′ x 3.5′ board game table!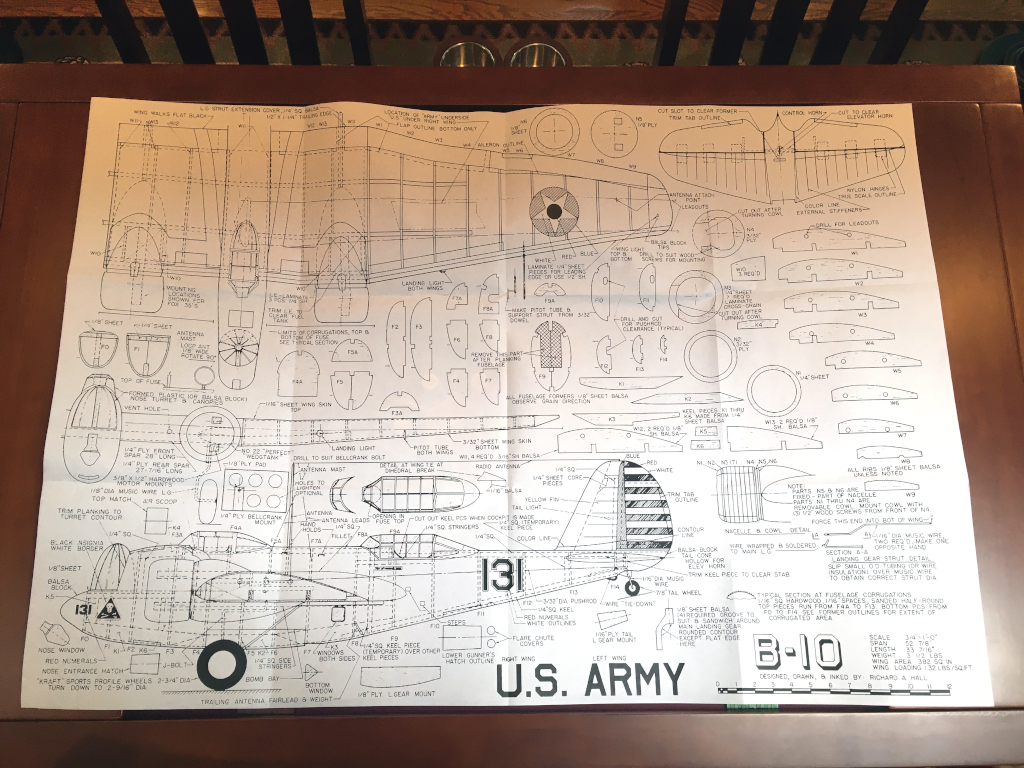 I intend to take my time and build this model as a 'filler' project in between the other model projects I already have in the works. As I do so, I will periodically post build updates here in FlyBoyz so keep your eyes out for updates from time to time. My hope is that you'll enjoy seeing my progress as I myself enjoy this rather unusual build.