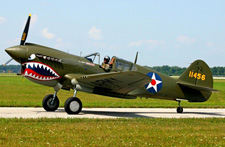 July 12, 2013 6:31:41 PM EDT
Just got off the phone with Art Wilder, the Glenn Curtiss Museum restoration shop director. I scheduled myself in for 2 full days (Friday & Saturday, August 9 & 10) of cutting & bending sheet metal and pounding rivets on the P-40! Art says that they just learned to do riveting on the P-40 so I may be able to teach them a few tricks.
He even agreed to have himself filmed for a brief video talking about the P-40 which I'd then post to their Facebook Page. I'll also get some video of me working on the bird so that everyone will actually believe that I'm doing this!
Gonna be cool!
P.S. Art says that they have Cleco pliers so I don't have to bring mine! LOL!