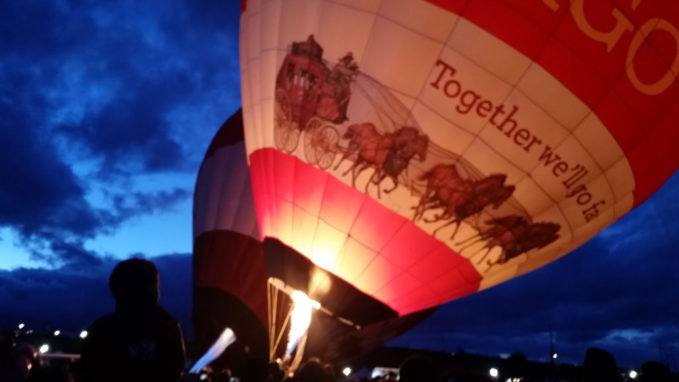 I lived in the Albuquerque, New Mexico area for 8 years (1994 – 2002) and one of the highlights of that stint in 'The Land of Enchantment' was the annual Albuquerque International Balloon Fiesta.
The Fiesta runs for 10 days over the course of the first two weekends in October and features daily events that include day-break and early evening mass launches of balloons; special shapes mass launches (rodeos); gas balloon events; splash and dash events (where balloons do touch and goes in the Rio Grande River); night glow events; balloon races; and many other events. The mass launch events can feature upwards of 800 balloons taking off! This is the premier hot air balloon event in the world with upwards of a million participants and spectators frequenting the Fiesta each year. Every day for 10 days, the skies over Albuquerque are filled with balloons and they are amazing to watch.
(Click on photos to zoom in on them)
All this activity takes place at the Albuquerque Balloon Fiesta Park which was built and is maintained specifically to host this annual event. The balloon launch field is surrounded on several sides by corporate 'tents' which host balloon parties as well as vendor tents which sell anything and everything balloon related…and New Mexican food related! Can we say "Breakfast Burritos" (no one does them better than the vendors at the Fiesta)!
One of the highlights each year is the Special Shapes Mass Launch. These events typically start at 5:00am on Saturday mornings with preparations being made for the mass ascension which happens at daybreak when conditions for hot air balloon flying are at their peak. Spectators are allowed onto the flying field and by 6:00am it is filled with thousands of spectators and hundreds of balloons preparing to inflate. Spectators are encouraged to 'pick a balloon' and serve as 'ground crew' for it by helping with the inflation process. Each balloon will end up ringed by dozens of 'ground crew' who then help with the inflation and cheer when 'their' balloon finally takes to the air at first light. It is a very hands-on event and is very exciting to be a part of.
Hot air balloons fly throughout the year in the Albuquerque area. On any given weekend morning, it is not unusual to see many balloons flying over Albuquerque airspace. Many of these balloons launch from empty residential or commercial lots scattered around the Albuquerque area. Any empty lot is a candidate for a balloon launch site! Our house in Rio Rancho was located a couple thousand feet from one of the more popular of these launch sites and on any given Saturday, up to 40 balloons would launch from this site. It would not be unusual to be awakened by the sounds of a propane burner being used to carry one of these balloons mere feet over the top of our house! This random launch site activity reaches a peak during balloon fiesta week and many residential neighborhoods are awash in balloons during balloon fiesta!
While I no longer live in New Mexico, I still have family living there including my brother, FlyBoy Shane O'Neill. The photos and video in this post were contributed by him and represent balloon activities he witnessed this year including attendance at one of the Special Shapes mass launches. There is no way these photos and video can accurately depict what it is like to be standing in the middle of Fiesta Park while 800 hot air balloons rise around you, but hopefully they will give you a flavor for what it is like.
This video is short and quick of the Dawn Patrol launch after the National Anthem. The Dawn Patrol are the first balloons launched to test the flight conditions prior to the mass launch. This is followed in the video by some inflates of Creamland's 'Airabelle', Wells Fargo's 'Center Stage', the launch of 'Rainbow Riders' (they have a fleet of over 20 balloons now), and 'Lottie Dottie Chicken' (a blue chicken special shapes balloon which was new this year).
In all honesty, there are not a lot of things that I miss about living in New Mexico, but the Balloon Fiesta is one of them. These balloons represent aviation in one of its' purest and simplest forms. If you ever get the chance to attend one of the Balloon Fiestas, do NOT turn up the chance to attend and participate!
The breakfast burritos are one of the other things I miss. At 6:00am in the morning, I just can't seem to find a good New Mexican Breakfast Burrito and hot chocolate anywhere in the Syracuse, New York area!