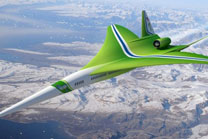 With a good size Lockheed Martin R&D and manufacturing facility located nearby to where I live, I found this article and accompanying video to be of interest even if the facility local to me is not actually engaged in any of the work described in this post.
Lockheed Martin has been working with NASA on design concepts for the next generation of supersonic transport jets. This article describes the design working currently being done in conjunction with NASA on the N+2 Concept Supersonic Tri-Jet. Lockheed Martin's design would accommodate 80 passengers and have the ability to travel more than 5,000 nautical miles with sonic boom levels one hundred times quieter than the now-retired Concorde supersonic passenger airline.
You can link to the Lockheed Martin N+2 Concept Supersonic Tri-Jet article here: Getting Up to Speed
Along with the N+2 concept article, there was a brief accompanying video which laid out some advanced aeronautics that are being considered and designed for the future of aircraft. This is a cool video well worth watching. Enjoy!