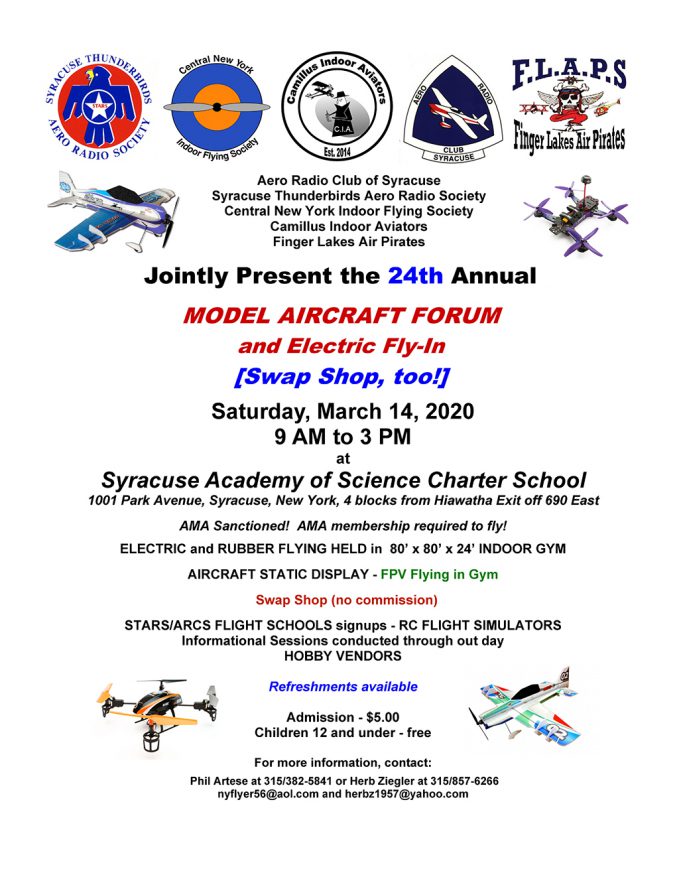 This coming Saturday, March 14, several Central New York model aircraft clubs will be jointly presenting the 24th Annual MODEL AIRCRAFT FORUM (MAF) at the Syracuse Academy of Science Charter School. The event will run from 9 AM to 3 PM. Full event details are listed on the two event flyer graphics displayed in this post.
This year, I intend to attend the MAF as both a display and vendor participant. I will be bringing several of my Control Line planes to display. I will also be bringing a selection of kits for sale from the FlyBoyz Store. AND (teaser alert!)…if things work out, I MAY even have a sample set of items on display that I think might be of interest to many forum attendees! I'm keeping my fingers crossed on that last item.
I have attended the MAF several years in the past and I find the event to be a good time to help kick off the beginning of the New Years flying season. If you can come, please stop by my table and say 'Hi!'. I hope to see you there!
(Click on photos to zoom in on them)