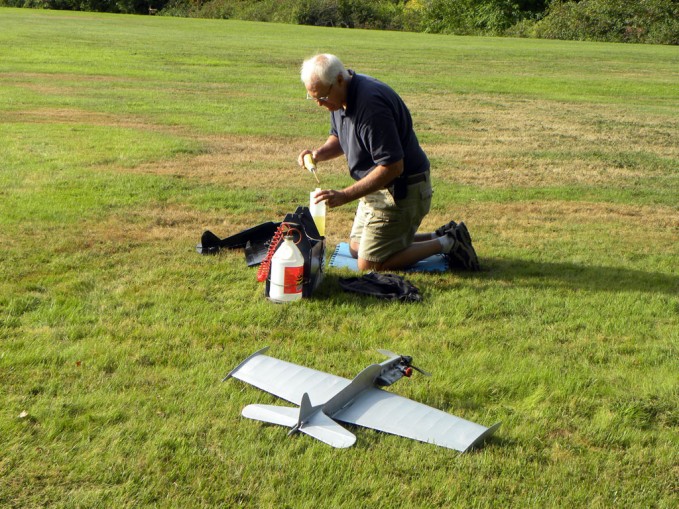 My control line flying buddy, FlyBoy Steve Dwyer, has been caught up in the nostalgia of his youth when he would build and fly profile control line planes powered by McCoy .35 glow engines. To that end, Steve has restored several of his old planes and fitted them out with McCoy .35's that he either had as a youth or recently purchased off eBay. These McCoy's can be a bit finacky at times and require fuel with a high (29%) castor oil ratio causing them to be a bit messy with their exhaust. But when they run, there is nothing like the sound and smell of these old nitro's burning that castor oil!
Steve and I had planned a flight session for Saturday at his secret, undisclosed flying field near his house on Bernhards Bay on the north shore of Oneida Lake. Steve has been flying for a couple years now at a location only a few minutes from his house that is secluded, protected from the wind by trees, and away from nearby houses. I've been hearing about this flying field but had yet to see it. Yesterday, I was taken there by Steve and it is indeed a great place to fly control line planes.
Before heading to the flying field, Steve invited me into his model workshop and showed me the plans and parts for three new builds that he has planned for this winter. Let me just say that he has some ambitious plans for building some pretty impressive planes. I expect that they will all be making their debut here on FlyBoyz over the next year!
During yesterday's flight session, I was supposed to maiden my new Brodak Super Clown ARF but it was not ready. Instead, Steve brought a small squadron of his old, restored profile planes all powered by McCoy .35's. All three of his planes made it into the air and all three came back from the field in one piece! We both enjoyed a very fun filled flying session!
We are planning another flying session for this coming Saturday, October 3 at the STARS field and expect to be flying a number of flights on a Ringmaster as part of the 8th Annual Worldwide Ringmaster Fly-A-Thon. Be sure to check out this Fly-A-Thon post here on FlyBoyz and then join in on the flying fun next weekend!
After we were done with our flying session, Steve and I scooted over to the nearby R/C flying field of the Oneida Lake Flyers. The Oneida club was hosting small airshow and we spent a few minutes there checking out the planes and flight action before having to head home.
Below are a few pictures from yesterday's flying sessions as well as a brief video of Steve flying his 'Big Black'. If you can discern the location of Steve's secret, undisclosed flying field from these photos and video, remember that it is a secret!
(Click on photos to zoom in on them)