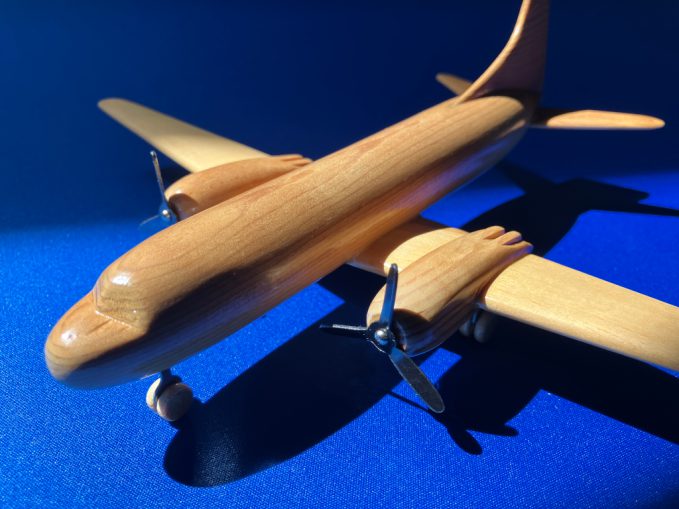 My modeling time has been very limited over the past several months. I've been able to peck away at a couple existing 'in-process' builds but I was looking for something that I could actually build and bring to completion in a relatively short time. Then I saw a YouTube build video of a vintage StromBecker Convair Flagship wooden scale model. I have sold many StromBecker kits thru my FlyBoyz Store, but I'd never actually built one of them. And it turns out that I actually had 2 partial Convair kits in my inventory. So I decided to combine the 2 kits and see what it was like to actually build one of these kits.
Before injection molded plastic kits, scale plane models were made of wood. StromBecker was one of the leading manufacturers of these models. This particular model kit is from 1947. It represents a Convair CV-240 plane that was at one time the flagship plane for American Airlines. Since I've been building a few scale plastic kits that harken back to the early days of injection molded kits, it also made sense to try building one of the precursors of these plastic kits.
Given the age of the kit, the included decals were unusable. Like the model in the video I watched, I decided not to paint the plane or use the decals. Instead, the model was protected with several coats of clear satin Polyurethane in order to display and celebrate the natural wood state of the model. I also decided not to make and add the paper and wood filler wing and tail fillets that are described in the instructions. I felt that they would detract rather than add to the finished appearance of the model.
The following video presents my build of this vintage wooden plane kit:
Building the kit was pretty much an exercise in sanding, gluing, and finishing. It was an enjoyable and quick build. But most of all, it was a step back into scale model building more than 70 years ago.
I am very satisfied with the results and it has joined my growing collection of scale plane models both old and new and now both plastic and wood.
If you are interested in building a StromBecker kit of your own, there are several available in the FlyBoyz Store. You can check them out here: StromBecker Kits