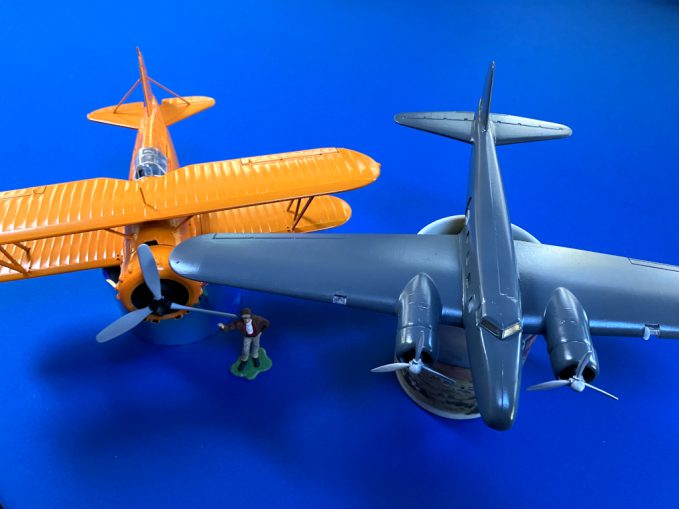 My favorite era of planes is the 1930s-1940s, a time also known as 'The Golden Age of Flight'. With that in mind, I chose for my first two attempts at plastic plane modeling, two kits that represented planes from that Golden Age, a Grumman Gulfhawk, and a Boeing 247. They were also two kits that I had in my kit stash.
Both of these kits were old and not representative of the quality seen in modern kits but that lent them to be good 'practice' kits for me to start developing my skills with building plastic models. If things didn't go well with these builds, I wouldn't be as upset as I would be if I ruined a new, expensive 'modern' kit!
The Grumman Gulfhawk was my first victim. This is a 1/32 scale Monogram kit (#PA58) from 1960. I had rescued it from an estate collection I acquired thru the FlyBoyz Store. The kit had been previously started and then partially disassembled for some reason. Several parts were broken or missing in the process. The plane was supposed to have a functioning retractable landing gear activated by rotating the propeller, however, this mechanism had the bulk of the missing and broken parts thus rendering the retracting mechanism unusable. Ultimately, I decided to build the landing gear in the retracted position since that allowed me to disguise the missing parts.
I had thought that as a 1/32 scale model, it would be an easier build given my bad eyes and shaky hands, but the real Gulfhawk was a rather small plane so this offset many of the advantages I had looked for in the larger scale. Oh, well. The kit served me well in introducing me to many of the tools and skills used in plastic model building. Of particular note was the painting side of things. I experienced my first attempt at (brush) painting a figure and my first attempt at airbrushing (exterior of plane). I was adequately satisfied with the outcomes of both painting attempts. Even though there were many challenges with this build, overall, I was pleased with the results. What follows are some photos of the building process and completed model:
(Click on photos to zoom in on them)
Next up for me was the Boeing 247. This is a 1/72 scale Williams Bros. kit (#72-247) from the 1980s. This kit also came to me via a model collection I acquired thru the FlyBoyz Store. The kit was in good condition but it was a 1/72 scale model. I have previously described how I determined to never build a 1/72 scale kit due to the small part sizes not playing well with my bad eyes and shaky hands. However, given that the real plane was of significant size, I hoped this would translate into model part sizes that were reasonable to deal with (this proved to be a bad theory). Additionally, the kit was available, untouched, and 'free' to me so I decided to give it a go.
As I progressed with this build, I ended up determining that this kit was a piece of crap. Basically, there were issues with parts not fitting correctly throughout the entire build. I ended up having to do a lot of cutting and sanding to get things to go together and even with my best efforts, not everything went together as intended. But, like the Gulfhawk, this kit served me well by introducing me to yet more of the tools and skills used in plastic model building. This build led me into a bit of 'kit bashing' in order to make parts workable as well as into the use of modeling putty to fill gaps between plastic parts. I was also introduced to the use of modeling varnish (applied with the airbrush) as a means of protecting layers of paint throughout the build. I was particularly pleased with the results of this product. I also tried to match the exterior paint color to that on the real Boeing 247 that I have seen hanging in the Smithsonian. The gray color is totally uninspiring but it is prototypical.
Like the Gulfhawk, there were many challenges with this build, and again like the Gulfhawk, I was generally pleased with the results. What follows are some photos of the building process and completed model:
On both of these kits, many of the parts and subassemblies that I spent time detailing were never to be seen again once the fuselage and wings of the model were closed up. This leads me to wonder how much time I will spend detailing these sorts of parts on future builds. Also, the decals in both kits were totally unusable and I didn't want to go to the time or expense of replacing them, so both kits are rather bare bones with regards to exterior 'decorations'. That's OK, as they both still look reasonable and they served their purpose as learning builds for me.
So for my next plastic build, I've determined that I will finish the 1/32 scale Revell P-51 Mustang that I started building sometime back in the 1990s. It's over 50% built but still needs work and lots of paint. And the wings are warped. Correcting them should lead me to develop yet more skills. However, before I dive headlong into that build, I have a couple balsa planes that I need to finish. And they have deadlines!