My favorite giant scale model builders, the Germans, are at it again. This time they have rolled out a 20 ft. B-25 Mitchell!
5-1/2 years of effort went into designing and building the bomber which features wood construction with fiberglass reinforcements and uses handmade retracts and 30 servos. Weighing in at 326 pounds, the plane is powered by two 400cc Moki 5-cylinder radials spinning 35×13 carbon-fiber propellers. Three Emcotec Power Cube SBus units, each with two Futaba R 7003 receivers and two 5300mAh batteries, means that no cable connections are needed between the fuselage and the wings.
The B-25 successfully took off on its maiden flight for technical acceptance on April 5, 2014.
Thanks to RCScaleAirplanes for posting this video to YouTube!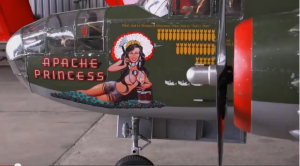 You can view the model build pictures here: B-25 Mitchell 'Apache Princess' Build Pictures