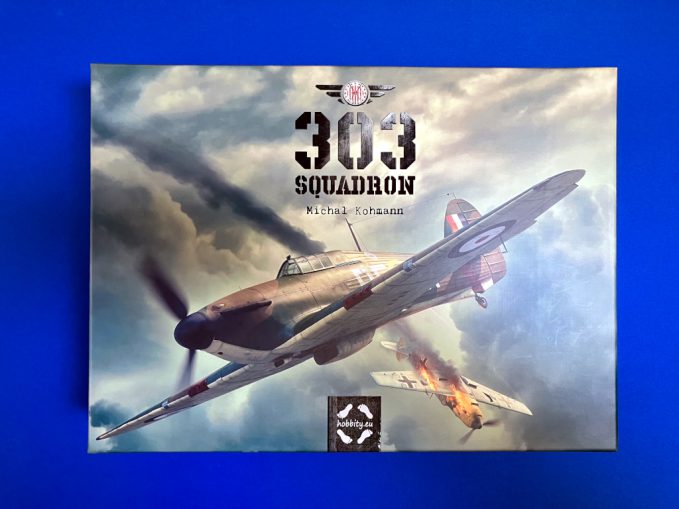 About a year ago, I published a post (Shall we play a game?) where I talked a little bit about one of my other hobbies: collecting and playing board games. I recently thought that I should do a post highlighting the aviation-related games in my collection with a specific focus on one of those games '303 Squadron'. Here's that post!
My game collection started back in the 1980s when I was first introduced to board war gaming. And the very first games I collected were aviation related. I remember seeing both Richtohfen's War and Luftaffwe back in the 1970s when I began my interest in aviation. I wasn't interested in collecting games at that time but I was interested in the aviation-related subject matter. By the early 1980s, with military service and college out of the way and a new job in the bag, I was able to afford a copy of each and my game collection had begun.
Richtofen's War is a 1972 game published by Avalon Hill. It allows the gamer to re-create aerial combat over France in the First World War with each player having complete control over one airplane. Seven Different scenarios are included. Luftwaffe is a 1971 game also published by Avalon Hill. It is a strategic level game of aerial combat over Germany from 1943-45. As a strategic-level game, the player gets to direct squadron-level flights against the enemy. Both are great games but I learned they each had an issue commonly found in the board gaming hobby…they required another player in order to be played!
In 1983, Avalon Hill addressed this issue with the publication of B-17 Queen of the Skies. I quickly added it to my slowly growing game collection. B-17 was designed as a solitaire game, pitting you and your crew against the German air defenses. Your goal is to complete 25 missions. I have played 25 missions in this game but lost 3 bombers in the process so I guess I never earned my ticket home! Over those 25 missions, I found that the game was flawed in that it relied too heavily on random dice rolls thus taking away from the feeling that a mission was won or lost based on the merits of the pilot and his crew.
West End Games published RAF as a solitaire game in 1986. In RAF, the player controls the British and Canadian Royal Air Force Squadrons during the Battle of Britain against the game system which controls the Luftwaffe. The game is rated low on the 'Complexity Scale' and for whatever reason has never made it onto my gaming table.
Many years then went by before I saw another aviation game. 2 years ago (2020), I learned of Pan Am by Funko Games and added it to my collection. I published a FlyBoyz post about it but have yet to play it. It is a 2-4 player game and is more of a 'family-friendly' game as opposed to a strategy/tactics war game so I thought it would be a good candidate to play with family and friends. Covid has delayed that from happening and I am still waiting to give it a try on the gaming table.
Here is a photo of all the games I've been talking about:
(Click on photos to zoom in on them)
These days, I buy the majority of my games from Kickstarter.com which is a global crowdfunding platform where many independent game creators publish their games. It has been a great source of some awesome games with the caveat that you have to wait for the game to be developed and produced before you actually get a copy of it. Covid and the current global supply chain issues have made those wait times stretch well beyond original publication schedules. It is in this environment that my most recent aviation-related game finally made it to my gaming table a few months ago. 303 Squadron is both a solitaire and a cooperative game for 1-4 players that allows the player to fly and fight with the 303 Squadron during the Battle of Britain. The 303 Squadron was the most effective RAF unit during the Battle of Britain. The game was offered with two expansions that add more operational options to the play of the game. I went all in and purchased the entire game 'system'. Here's a photo:
While the game is not complex, it is deep (which appeals to me!). It offers a wide variety of options in both the planes and the pilots that you operate and there are 5 scenarios that you can play through. The game flow is an interplay between things you can choose that happen for 'free,' things that happen outside your control, and things you can modify using cards. There are a significant number of game components including a very large and detailed map board on which the game is played out. The game also comes with a significant number of aircraft miniatures that will occupy the map board during play. It should look like one of those British Air Command map boards you see in the old movies about the Battle of Britain. Once it is all laid out, this game is a beast in that it occupies my entire game table! Here is what I am talking about:
I have yet to play the game, but it is now set up on my game table and over the next few weeks I intend to read the rules and then work my way through the introductory scenario.
And while I'm fighting the Battle of Britain in my Spitfire, I am looking forward to the arrival of the next aviation game to be added to my collection. First in Flight is another Kickstarter game. It is a fast-paced historical aviation game where players take on the role of a pioneer in the race for heavier-than-air flight, balancing risks and rewards in the workshop and in their test flights. Players uncover and repair the design flaws in their flyer to outpace their opponents and make improvements to build their plane's range. This is another 'family-friendly' game that I'm hoping can be enjoyed by my family and friends.
I thought that this is where this FlyBoyz post would end but today's email brought another addition to the game collection with it…a new expansion to 303 Squadron will soon be announced! I have no knowledge of what this newest expansion will involve but I'm sure I'll be adding it to my collection. After all, once you commit to a gaming 'system' you're all in…especially if it involves war planes!