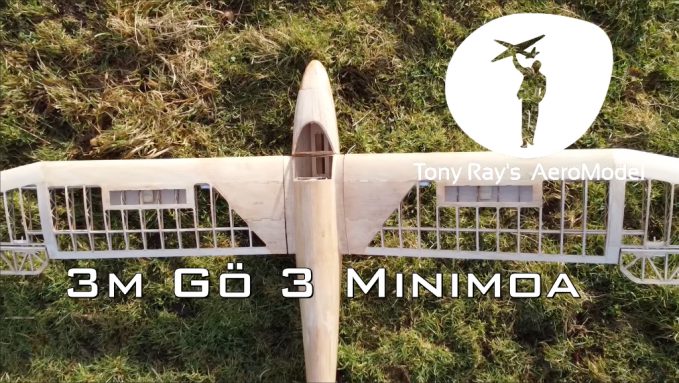 Here we are with Part 3 of an online video series that is reviewing the 1/6 scale Tony Ray's Minimoa 1936 Glider which was recently featured on a YouTube channel called Scale Me Down. This video review is Part 3 of their multi-part series where they build, fly, and review the kit. This Part 3 video features building the fuselage for the kit.
The Minimoa is a classic vintage sailplane with beautiful lines and great performance. It has been a favorite within the sailplane community since the 1930s and has been featured in a couple previous FlyBoyz posts. Tony Ray's AeroModels has produced two scale versions of this iconic sailplane. The newest of those kits is a laser cut 1/6 scale model with a wingspan of 3 meters (112″). It is designed for 4 to 6-channel RC and can be built for slope soaring, aero tow, thermal soaring, or as a motor glider with the inclusion of a brushless motor.
The Minimoa 1936 Glider is one of the great Tony Ray sailplane kits that are offered for sale in the USA via the FlyBoyz Store. You can find the kit by clicking on this link: Minimoa 1936 Glider
A lot of work goes into an online review such as this so I would like to thank Scale Me Down for all their efforts. When you are done watching the review video, be sure to 'Like' the video and 'Subscribe' to show your support for their channel!
You can watch this Part 3 of their review series on YouTube by clicking here (Enjoy!): Minimoa Video Review – Part 3
Stay tuned for future parts in this video review series. In the meantime, you can watch Part 1 of their review on YouTube by clicking here: Minimoa Video Review – Part 1
And you can watch Part 2 of their review series on YouTube by clicking here (Enjoy!): Minimoa Video Review – Part 2
While you are visiting the FlyBoyz Store, you can also check out another 1/6 scale glider newly offered by Tony Ray, the DFS Weihe 1938 Glider is a sister ship to the Minimoa and is also available for sale in the USA via the FlyBoyz Store! You can check it out here: DFS Weihe 1938 Glider