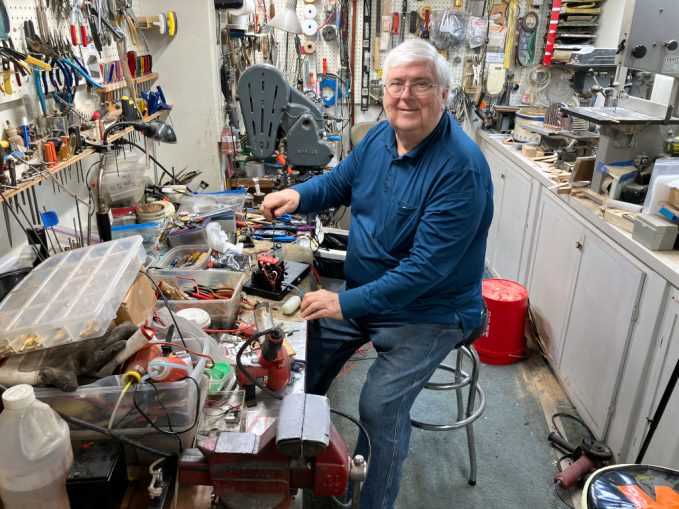 Five years ago, I published a FlyBoyz post titled 'Candy Land' where I highlighted the basement model airplane empire that Rochester, NY resident Jim McCarty had amassed over the years. Now, 5 years later, I wanted to not only update my readers on Jim's 'empire' but also talk a little bit about Jim himself and offer up my Thanks for the role he has played in my life over those intervening years.
Jim, now 78, has been a resident of the Rochester, NY area his entire life. In 1949, at the early age of 5 years old, he built his first model airplane kit, a Strombecker F-86 Sabre. 73 years later, he is still building. Jim spent 45 years at Xerox Corporation where he worked first in R&D Engineering and then finished off his career with Xerox in Corporate Finance. Along the way, starting in 1964 thru 2009, Jim earned 4 degrees from the Rochester Institute of Technology (RIT) starting with an Associate in Applied Science degree, then a BSME degree, followed by a Master of Engineering, and finally topping all that off with an MBA in Finance. Virtually all of these degrees were accomplished via 15 years of night school while he worked and raised a family during the day.
On the hobby front, Jim joined the RAMS (Rochester Aero Modeling Society) Club in 1984 and also became a member of the RCCR (Radio Control Club of Rochester). Jim is a Lifetime Member of the AMA and served as a Contest Director for the Free Flight SAMS. As a member of the RAMS, Jim was a Trainer for the club, acted to Train the Trainers, and has held virtually every club office over the years. For his service to the club, he was awarded a lifetime membership in the RAMS.
But what Jim may be most noted for in his hobby career is his role as a hobby reseller. Since 1994, at the age of 50, Jim has become known throughout Central and Western New York as an icon of the model reselling business. Over time, he built up a vast personal collection of hobby models, engines, and accessories, and combined that with helping others by acquiring and then reselling personal and estate collections. This all put Jim into the business of reselling hobby models. Word of mouth combined with an ongoing presence at most regional club swap meets and auctions, spread the word that Jim was the man to go to if you were looking for that particular vintage kit, engine, or accessory. Jim must have been doing something right because his reselling helped to put his kids thru college!
But time marches on and about 4 years ago, Jim was thinking about starting to downsize his collection at about the same time that I was looking to launch the FlyBoyz Store. We ended up striking up a relationship that was mutually beneficial to both of us. Over the past 4 years, I have helped Jim find new homes for literally hundreds and hundreds of his high-quality vintage model airplane kits. While I have acquired and sold dozens and dozens of model airplane kit collections over the past few years, Jim's kit collection has been far and away the largest one I've dealt with. If you've purchased a Sterling Models kit from the FlyBoyz Store, there is a high percentage chance that it was one of Jim's kits that you purchased.
With the majority of plane kits gone, except for some that he considers to be truly special, Jim has now moved on to disbursing his model engine and model boat collections. And along the way, he is also selling a few of his model tether cars. The photos in this FlyBoyz post show what would be considered a large collection in anyone's book, but in actuality, Jim has made great progress in 'downsizing'!
While he has cut back on his reselling activities, Jim has not cut back on his personal modeling. His workshop is where he likes to focus his attention these days and a tour of his workshop shows a bunch of 'projects' that he currently has underway, from restoring model airplanes for personal acquaintances to building new high-tech benchtop model engines (OTTO Engine), Jim has no lack of projects and activities that keep him busy.
In reflecting back on his years in the hobby, Jim says that he would not change a thing. His favorite aspects of the hobby have been working with antique (1940s – 1960s) plane kits and engines. Flying model planes, in particular in his role as a flight trainer, has also been very special to him. But as I already stated, his favorite times now are spent in his workshop with his planes and engines.
After looking over his lifetime of work, there is no doubt that Jim has been and remains a gifter modeler. He feels that the most valuable thing he can do now for the hobby is to pass on his knowledge and skills to others in the hobby. He thinks that 'recycling hobby stuff' is an important role that everyone in the hobby should engage in and when asked for his 'Words of Wisdom' regarding the hobby, he immediately shot back "Don't throw away the boxes!".
And so Jim's desire to pass on his knowledge and his drive to recycle 'hobby stuff' is where I come into the picture. Over the past 4 years, Jim has been a great mentor to me as I entered the world of model reselling. If I ever had a question about the business of reselling or about a particular kit or engine, all I needed to do was to call Jim and I was immediately greeted with, "Hi Mike, how can I help?". In addition to his mentorship, helping Jim to find new homes for his prized kits gave a tremendous initial boost to the fledgling FlyBoyz Store. I attribute a lot of my current success with the store as being directly related to the role that Jim and access to his collections played for me. At this point, the only regret that I have is that we've pretty much run out of Sterling Models kits to sell!!
What follows are some photos that I took this past week while paying another visit to Jim.
(Click on photos to zoom in on them)
So, while Jim settles down at his workbench to continue to work on that latest project, let me end this post with a truly heartfelt…
THANK YOU, JIM!!