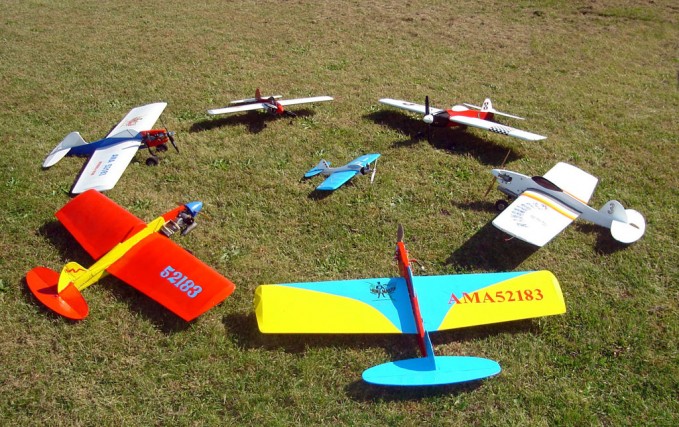 In 2014, over the course of 2 days, 456 pilots from 11 countries flew a record 2,714 flights with their Ringmasters! 'What is up with that?', you ask? Well, all of these pilots were participating in the 7th Annual Worldwide Ringmaster Fly-A-Thon, an annual event sponsored by The Brotherhood of the Ring and dedicated to honoring the most popular Control Line (CL) model ever! And now it is time to announce the 2015 event!
In an effort to make this year's Fly-A-Thon yet another record setting event, John Cralley has approached me to ask for my assistance in promoting this great CL event. Given all my CL activities, I am more than happy to help promote the 8th Annual Worldwide Ringmaster Fly-A-Thon here on FlyBoyz!
Below is a variety of event information that has been provided by John along with photos from past Fly-A-Thon's which show this event to be truly worldwide in scope! Please feel free to click on and then download and disseminate the event flyer which is presented in several formats. Also presented are the results from last years event. Be sure to mark this October 3rd. and 4th. on your calendar, then prepare your Ringmasters and help set another new record for recorded Ringmaster flights!
Downloadable Event PDF: 2015 8th Fly-A-Thon Flyer
Downloadable Event Word DOC: 2015 8th Fly-A-Thon Flyer
Downloadable Event JPG: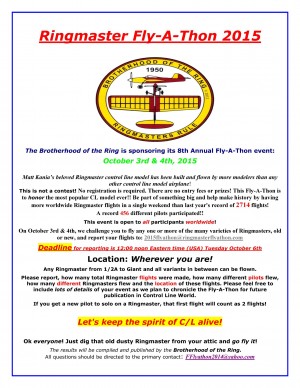 Downloadable 2014 Fly-A-Thon Final Results: 2014 Fly-A-Thon Final Results 10-21-14
(Click on photos to zoom in on them)