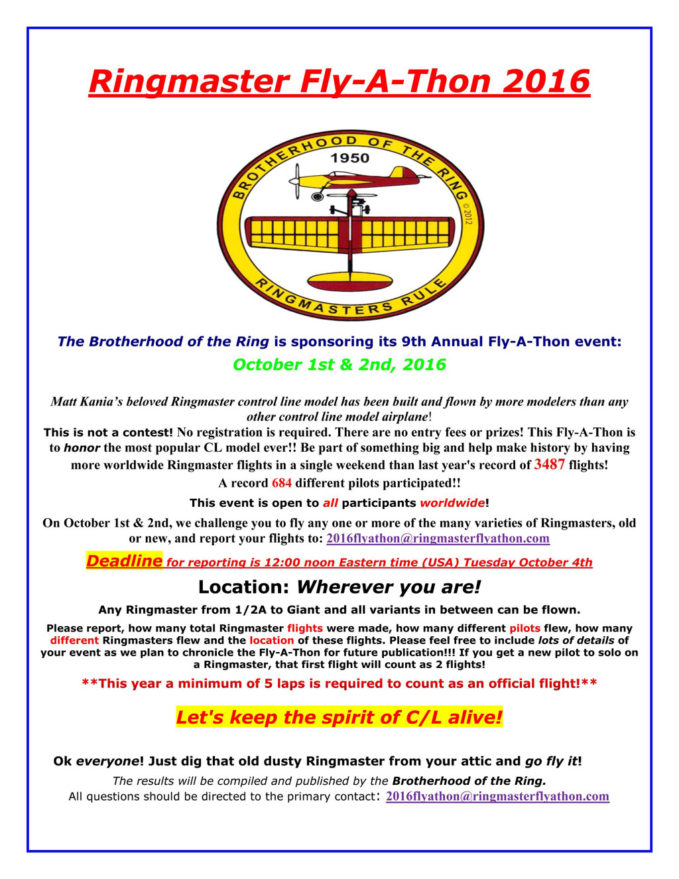 The Annual Worldwide Ringmaster Fly-A-Thon is a great event and I'm once again happy to be able to promote it here on FlyBoyz. I just received this years information from John Cralley and am sharing it and his note about the event here with everyone. I will feature another reminder post on this event as the actual date draws near but I wanted to get this information out now to everyone so that you could have plenty of time to start making plans for it.
As for myself, I plan to participate once again, only this time I will be flying my OWN Ringmaster. I am expecting delivery of the kit from Brodak any moment now!
---
Announcing the 9th Annual Worldwide Ringmaster Fly-A-Thon!!
October 1st & 2nd, 2016
I want to invite you and your fellow Control Line modeling enthusiasts to join us this Fall by flying in the 9th Annual Worldwide Ringmaster Fly-A-Thon on October 1st and 2nd.
This event is the largest Control Line Fun-Fly in the World and year after year the Fly-A-Thon has demonstrated that the Control Line modeling hobby is loved around the globe!!
You might want to organize a contest such as the Ringmaster Roundup that is held in the Houston,Texas area or just have a fun-fly at your field. Some fliers prefer to fly alone trying to beat some personal goal and that is great too. If you are a member of a model airplane club try to get your club involved even if it is primarily a Radio Control Club. Our local club prohibits RC flying while we hold the Ringmaster Fly-A-Thon but if there is room at your field you may be able to have both types of flying going on at the same time.
Note: This year we are requiring a minimum of 5 laps to count as an official flight!
This will level the playing field for those that want to compare their numbers with those of others. This rule does not apply for new pilots who have never soloed before the Fly-A-Thon. On the other hand, I don't remember the record number of laps reported for a single flight but you may wish to try for a large lap number this year. Long flight or short we are all celebrating the wonderful hobby of Control Line Modeling by flying some form of Ringmaster in the 9th Fly-A-Thon!!
The Fly-A-Thon is sponsored by the Brotherhood of the Ring Forum. Feel free to register to join the Brotherhood Forum and you may also wish to visit/join the Facebook Group, Annual Worldwide Ringmaster Fly-A-Thon (you will have to be a member on Facebook to join the Group).
Tight lines and soft landings,
John Cralley, For The Brotherhood of the Ring
---
I have attached three versions of the informational flyer (image, PDF and MS Word) that you may use to promote the event. Feel free to translate the flyer into your own native language and please circulate it to other fliers that you feel might wish to participate.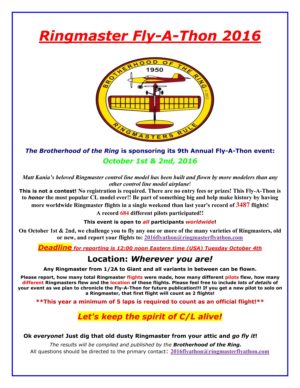 2016 9th Flyathon flyer – WORD