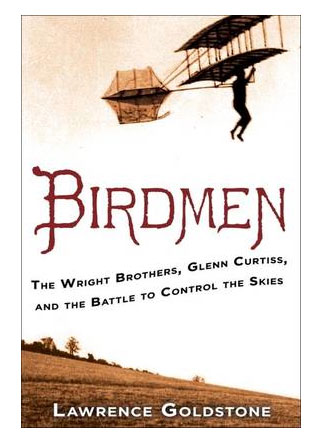 While it wasn't something that I spent a lot of time deeply pondering, throughout my years in aviation I have wondered from time to time why the Europeans seemed to be so far ahead of the USA in terms of aircraft development throughout the First World War. After all, hadn't the first successful powered flight happened in America? If so, why was America not on the forefront of aircraft design and manufacture at the outbreak of the war?
Likewise, I was familiar with the name Glenn Curtiss and I knew that he was considered to be one of the 'pioneers' of aviation,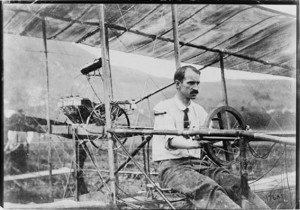 but I was unfamiliar with what specifically he had pioneered and the exact role and significance that he played in the early development of aviation. My discovery last summer of the Glenn H. Curtiss Museum in Hammondsport, NY filled in some of the gaps in my knowledge about Curtiss but I was still lacking in many of the specific details. In particular, I knew nothing of his ongoing feud with the Wright Brothers and the significance that it had in answering my questions relative to the USA's lag in aircraft development.
Finally, I had often seen the early photos and sketchy video clips of those men and their crazy flying machines that preceded the Wright Brothers.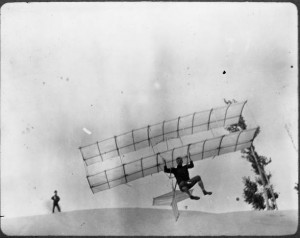 The photos and videos depicted various men running down hills dangling from flimsy glider wings, or 'aircraft' with either flapping wings, rotating air screws, or multiple wings stacked one over another like a ladder. In all cases, the end result was the same, the glider crashed or the aircraft destroyed itself while still on the ground.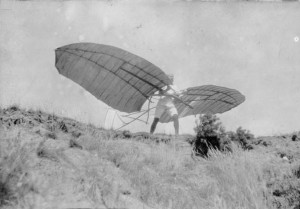 Other than the name of Otto Lilienthal, who I knew to be one of those glider pilots, I was basically unfamiliar with the men and machines involved in all these early attempts at manned flight and more significantly, I was unfamiliar with the role that each of them played in the development of the first successful manned flight by the Wright Brothers at Kitty Hawk in December 1903.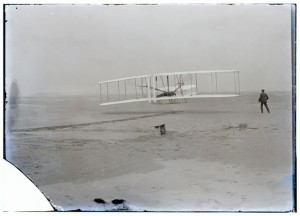 I have just finished reading the new book "Birdmen" by Lawrence Goldstone and it has done a wonderful job answering these questions and filling in all those gaps in my historical knowledge. And then some!
Besides doing a wonderful job answering all the questions outlined above, "Birdmen" does a nosedive into the dozens of personalities spawned during the early years of aviation. I had no idea. I am now a full-fledged Lincoln Beachey fan!
I also had no idea of the flying exhibitions that played such a huge role in introducing the average American to the wonders of flight prior to the outbreak of World War I.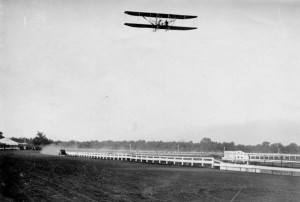 We've all seen those early photos of an airplane racing an automobile…two new technologies racing for supremacy. This was just one of the many attractions of these early exhibitions which also included daredevil stunts and many deadly crashes. The exhibitions represented big money and big business during the early years of aviation and "Birdmen" spends a significant amount of time exploring the significance of this topic.
In discussing issues eerily prescient to the modern high tech environment we live in (think patent wars between Apple Computer and its' rivals Microsoft and Samsung), "Birdmen" also explores the business and legal aspects of early aviation, specifically focusing on the patent wars that raged for years between the Wrights and Curtiss and that played a significant role in suppressing the development of early aviation in America. That question that I wondered about from time to time was completely answered by reading this book.
I am a huge history buff and my interests in aviation are well represented via this blog. "Birdmen" put these two together and gave me a much better understanding of and appreciation for the beginnings of aviation. If you enjoy reading about history or if you have an interest in aviation, I would recommend this book… a thoroughly enjoyable and very informative read.
If you would like to purchase a copy of "Birdmen" for yourself, you can order it thru the FlyBoyz Aviation Store. Just click here: Birdmen