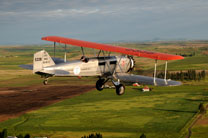 I just recently learned about this fully restored 1928 vintage Boeing Model 40C  and have fallen in love with it! So this FlyBoyz post is dedicated to presenting the only flyable Boeing Model 40 in the world and the oldest flying Boeing aircraft of any kind.
The Boeing Model 40 not only is notable as Boeing's first production commercial airplane, but its innovation and efficiency were the deciding factor in Boeing Air Transport (the airline subsidiary of the Boeing Airplane Company) winning the lucrative Oakland-to-Chicago air mail route in 1927. That event set William Boeing on a course that, within just two years, would take him from managing his airplane company in Seattle to presiding over a vast nationwide aviation empire called United Aircraft and Transport Corporation (UATC).
The Boeing Model 40 was a state-of-the-art aircraft when it debuted in the 1920s and helped establish commercial aviation in North America. The Model 40 was originally designed to be an air mail carrier and was later converted to passenger use. The Boeing 40C was part of the line of Model 40 aircraft built between 1925 and 1931, with a total of 54 Model 40C aircraft built in 1928-1929. The plane carried its four passengers in two closed cabins, and the lone pilot in an open cockpit.
Addison Pemberton of Spokane, Washington is no stranger to rare aviation restorations. Having learned to fly at the age of 15, Pemberton spent most of his adolescent years surrounded by exceptional antique aircraft including Howards, Travel Airs, Wacos, and Stearmans. It was, however, one particular vintage aircraft that captured his fascination over the years, the Boeing 40. As a child, Pemberton heard stories of his fathers own adolescent aviation experiences, listening to the Boeing 40s flying over the familys Iowa farm. Situated underneath the transcontinental mail route of the 1920s and 1930s, the farm had a front-row seat to the development of Boeings commercial success.
Pemberton began his drive to restore a Boeing 40 when he first saw one on display at the Henry Ford Museum in Dearborn, Mich., in the early 1980's. The dream of completing a Boeing 40 restoration never left Pembertons mind; however, after years of searching for a viable project, none were found. Only 82 Boeing 40 models were built, and of those, most had either been scrapped or crashed. Only two remained in existence, both museum displays and neither of which were able to fly. The only other source was one of local Pacific Northwest legend, a Pacific 23 mail transport that crashed into the side of Oregon's Canyon Mountain on October 2, 1928; after nearly 70 years, however, the crash site had long been forgotten.
Finally, in 1993, Ron Bartley, resident geologist for the Oregon Aviation Historical Society, uncovered the site location. Bartley, along with other society volunteers, tediously hauled the more than 200 parts and pieces down from the mountainside in the hopes of restoration. After the project was sold to Pemberton, he and 61 volunteers spent more than 18,000 meticulous hours, spanning over nine years, bringing the Boeing 40C back to its original glory. They used parts from that airplane plus another obtained from Alaska. They also acquired priceless drawings that detailed many of the 33,000 specific parts of the aircraft many of which they ended up fabricating.
The Boeing 40C rolled out in the winter of 2008 as a finished airplane. They had to wait a few weeks for the snow to melt in order to fly. They received their Standard Airworthiness Certificate from the FAA and completed the engine pre-oil and fuel flow tests for the first of the taxi tests. The restored airplane made its maiden flight in February 2008. The aircraft is now the only flying example of Boeings first commercial airplane which was a crucial key to the companys' long-term success.
"There is still a lot of original DNA left in this airplane from its last flight in 1928," Pemberton said, "One of our main goals in restoring this treasure was not to place it in a museum or keep it tucked away in a hangar. It is my intention, as the custodian of this airplane, to share it with as many people as possible".
Here are some facts for the Boeing 40C restoration project:
The airplane weighs 4,080 lbs empty and has a gross weight of 6,075 lbs.
It is 34 feet long and 13 feet tall with a wingspan of over 44 feet
Wing loading is 10 lbs per sq. ft. and power loading is 10 lbs per HP
The wings have 33,000 individual parts in them
It cruises at 115 mph using 28 GPH and 32 GPH at 120 mph
It carries 120 gallons of fuel in three tanks
Over 221 gallons of dope/reducer and 120 yards of 102 ceconite fabric; twelve gallons of polyurethane paint for the sheet metal; and three-hundred-and-fifty 2″ brushes were used to apply six gallons of West Systems epoxy
One-hundred-eighty-one rolls of paper towels were needed for cleanup
There were a total of 62 volunteers who worked on the project to some degree. Twenty-one of the volunteers did a significant amount of the work and nine of the volunteers worked continuously during the eight-year project.
Boeing 40C Photos
(Click on the photos to get a large image with higher resolution)
Photos of the plane during it's 2008 rollout after restoration was completed. How about those twin exhaust pipes!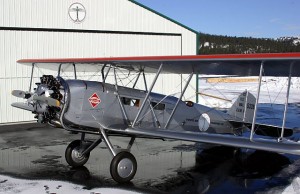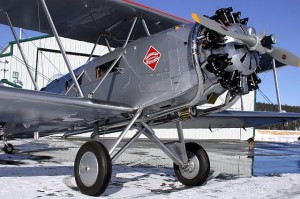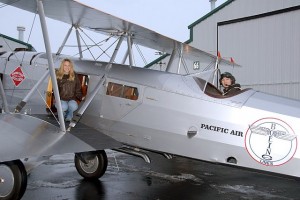 Interior shots of the 40C's large cockpit and interior cabins, which seat four: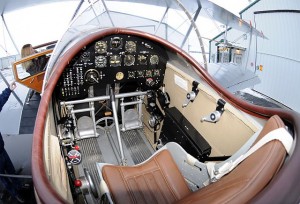 Do you think that fire extinguisher is adequate?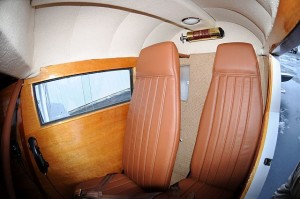 The Boeing 40C in flight: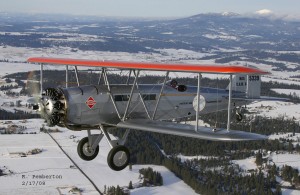 Boeing 40C Video
There are 2 brief, but interesting, 'commercials' during this video. Also during this video, Pemberton mentions the meet-up with the Boeing 787 which is described and shown below.
Boeing 40C and 787 Meetup
(The following description is courtesy of Boeing)
As if finding a ghost among the cumulus, The Boeing Company's latest addition to its lineage of pioneering commercial airplanes, the 787 Dreamliner, caught up to its ancestor, a Boeing Model 40, in the skies over Mount Rainier south of Seattle.
The 787 and Model 40, both the technological leaders of their time, represent 80 years of Commercial Airplanes leadership and clearly illustrate the dramatic progress in airplane design.
During those 80 years, the people of Boeing have introduced innovative technologies that have revolutionized flight and defined the design of all commercial airplanes.
Taking a very short break from the 787 program's intensive flight test program, Boeing Chief Test Pilot Mike Carriker expertly maneuvered the first 787, ZA001, into formation with the Model 40 at 12,000 feet to allow photographer Ryan Pemberton, flying in an A36 Bonanza, to line up for the striking photo.
"It really took a lot of work and planning," Carriker said. "When I came alongside the Model 40 against those big puffy clouds it was unbelievable".
Here is this 1928 biplane flying with a 2010 airplane side by side.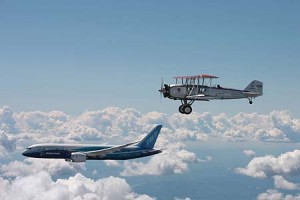 Finally, I hope you have enjoyed learning about and seeing this beautiful, historic aircraft. I would love to build a (balsa) model of this Boeing Model 40. I have done a bit of searching for a kit but have come up empty. If anyone is aware of one, please contact me. Thanks!