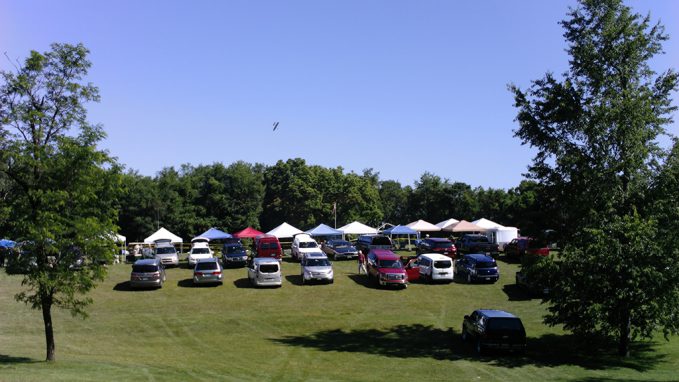 I'm back from the 23rd. Annual Brodak Fly-In.
'Brodak', as it is referred to, is one of the premier Control Line model airplane events in the United States. The event ran for 6 days (Monday – Saturday) this year and is hosted by John Brodak who is the force behind control line manufacturing and sales in America. The event is held on John's property in Carmichaels, Pennsylvania and is right around the corner from his manufacturing plant and hobby shop.
I was at Brodak on Tuesday and Wednesday to watch the 'Classic Stunt or Nostalgia 30' and the 'Old Time Stunt (No Flaps)' events held on those two days. I picked two good days to be there. Monday and Thursday were travel days for me (8 hour drive each way) and I drove the entire trip there and back in the rain. But Tuesday and Wednesday had perfect weather for each of the days I was at Brodak.
I intend to publish a series of FlyBoyz posts relating what I saw and did at Brodak. I am starting with this post where I'll present the event and venue.
The venue is a control liners paradise! There are 6 flying circles, ample parking right next to the flying circles, an area for campers, and plenty of room for vendor tents and event administration. The flying circles are situated with 4 grass circles set up for Beginner, Intermediate, Advanced, and Expert flyers. There are paved take-off areas in a couple of these flying circles.
(Click on photos to zoom in on them)
Across the grass parking and camping areas there are two more flying circles. One of these circles is completed paved all the way around the flight area. Besides regular flying, this circle serves jet flying. The second circle in this area contains a carrier deck where all carrier events are conducted.
While I did not actively participate in any of the contest flying events, everything appeared to run flawlessly from my observations. There was constant flying action in all the flying circles. And it was easy to follow current contest standings from the results boards posted in the Administration area.
I did get to fly my Twister for two flights on Tuesday. I flew it off the paved flight circle. What a joy it is to fly off of blacktop!! One of the wheels on my Twister broke on landing (accounting for the landing skid seen in the below video) but a quick trip to Brodak's Hobby Shop rectified that issue with the purchase and installation of two new wheels. Here is a video of my first flight.
While I was changing the wheels on my Twister, a local resident engaged me in some conversation. He stated that he was surveying the parking lot to see how many States were represented at the event. He had recorded license plates from 13 States and Ontario, Canada. The furthest away States he observed were Florida and Oklahoma.
Over the two days I was there, I saw several guys wearing FAC (Flying Aces Club) T-shirts so I take it that there is a good bit of cross-pollination between the Control Line and Free Flight communities. This reflects my personal interests in both sub-sets of the hobby.
This was my first time at not only Brodak but at any sort of control line event. And even though I was a 'Newbie', I found it easy to engage with everyone I met. Everyone was friendly and helpful. While there were competitions going on, the emphasis to me seemed to be on enjoying the flying and camaraderie associated with control line. That was exemplified in spades at the end of my second and last day when I was invited to take the handle of Gary Lutz's Ringmaster and fly in my first ever multi-plane flight. I flew with George Marenka and Tim Lanore and managed to not crash Gary's Ringmaster or trip George or Tim. It was fun…thanks guys! Here is a video of that flight.
During my two days at Brodak, there was talk as to whether or not this was to be the last Brodak event. It seems that John Brodak has some health issues. While I was there, he made a brief appearance at the flying fields on Wednesday but I missed him. It is felt that the current Contest Directors want to continue the event. As this FlyBoyz post is being published, there is to be an announcement at the Saturday Night Awards Ceremony regarding the status of next year's event.
I am hoping that the Annual Brodak Fly-In continues as I found it to be a thoroughly enjoyable event in a wonderful setting in southwest Pennsylvania. And if next year presents itself, I'm thinking that I may want to return next year as a contestant!
Next up on FlyBoyz – posts on:
Brodak Manufacturing
Brodak Hobby Shop
Tower One Museum
Brodak – Planes, Planes, and more Planes!