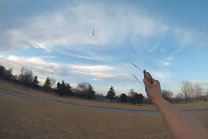 I thought this was a pretty cool perspective of Control Line stunt flying and one not seen by anyone who hasn't flown Control Line. The video was taken from inside the flight circle. I like this 'inside the circle' perspective and the view it gives of the pilots hand motions during the stunts. This view gives a real sense of how to control the stunt flight pattern.
The plane is a Brodak Strega powered by a Super Tigre 60.
Excellent plane, excellent flying, and excellent video! Enjoy!