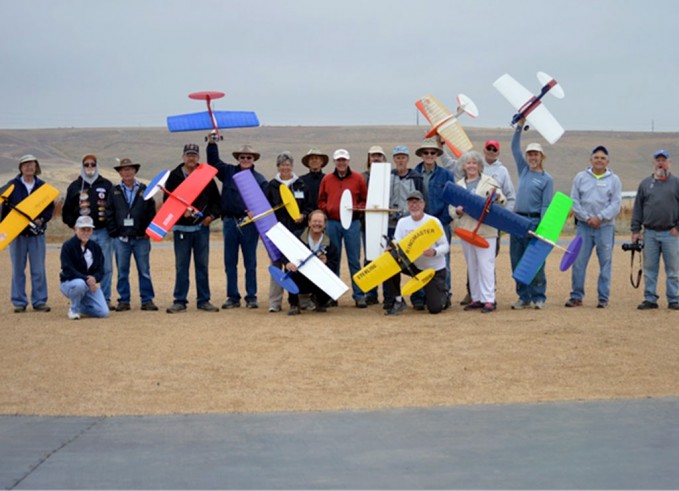 As promised, John Cralley has presented me with his Event Report for the 8th Annual Worldwide Ringmaster Fly-A-Thon which was held last month. I am happy to present John's Event Report here in FlyBoyz!
---
The Annual Worldwide Ringmaster Fly-A-Thon!
The Greatest Control Line Fun Fly on Earth!
It happened again for the 8th time in October 2015. Pilots from around the world flew Ringmaster control line model airplanes to celebrate the wonderful hobby of model aviation!! There were 684 pilots who put up a grand total of 3,487 Ringmaster model airplane flights. This event is sponsored by the Brotherhood of the Ring (BOTR) a WEB forum devoted to Matt Kania designed/inspired Ringmasters control line model air planes.
This event started eight years ago when Joey Mathison from Las Vegas, Nevada, came up with the idea of trying to see how many Ringmaster model airplane flights could be made in a single weekend. He proposed to Dee Rice, originator of the BOTR, that the forum should sponsor the event. It would be a "Fun-Fly" during a weekend in October and restricted to Ringmasters. The number of flights would be tabulated and reported on the BOTR forum.
Richard Grogan from Houston, Texas, an administrator on the BOTR, took Joey's idea and developed a set of simple Fly-A-Thon rules which are still followed today. The rules were acceptable to the other leaders of the BOTR, approved by Joey Mathison and thus set into being the Brotherhood's Annual Ringmaster Fly-A-Thon.
Richard's rules specified that the Fly-A-Thon should be held on the first weekend of October and:
Anyone that flew a Ringmaster could participate.
All varieties of Matt Kania type Ringmasters could be used.
The models could be flown anywhere in the world.
Any new pilot who soloed would have that solo flight counted as two flights.
Flights were to be reported to a special email address.
Flight counts and other information would tabulated by Richard Grogan.
A final tally would be posted on the BOTR forum and on other control line sites.
No registration or fees were to be involved!
In 2008, the first year of the Fly-A-Thon, 255 flights were recorded in the United States and Canada. The numbers have steadily increased yearly. The number of pilots was not recorded until 2014 but clearly the pilot count has been growing along with the flight count.
Why would you want to participate in the Annual Worldwide Ringmaster Fly-A-Thon? Together with the pleasure of flying a control line model, you have the satisfaction of knowing that you are flying a Ringmaster on the same weekend as hundreds of other pilots in other locations around the World. Your participation promotes control line modeling and, yes, it is fun to be a part of such an event. National and/or local pride may be a part of the motive since you know that you are representing your nation/state/city and in many cases your local model airplane club while celebrating the hobby of model aviation.
Here are some of the stories that were submitted along with flight reports this year:
International pilots made contributions to support their nations:
Ingvar L. Nilsson reported from Sweden:
"On clubfield of Kungsbacka Modellflygklubb (coordinates below) on the Swedish west coast
Between 11.00 and 12.22 on Saturday October 3 2015 I made totally 6 flights with my yellow and red S1 with original wing thickness.  Powered by FOX .35 and a light weight muffler from junkbox. Propeller was Zinger beech standard 10×6". Lines were Brodak 50' (15 meter) and 0.015" diameter SS.
Flights were the major part of the Swedish national "Semi-stunt" programme, and the 6:th flight ended bad as the Ringmaster S1 in the final ending loop of the double vertical 8 by some reason did not respond to the up-rudder – it rather was pushed down and touched the ground making the tail section break off just where the trailing edge of wing is.
Weather was cloudy but no rain, wind was unstable and somewhat breezy. Only 2 RC-pilots on the field strange enough."
(Click on photos to zoom in on them)
Bad weather could not stop many enthusiastic Ringmaster fliers:
John McFayden reported from Toronto, Canada:
"The Balsa Beavers Model Flying Club experienced on Saturday winds in excess of 30 mph and rain but Sunday dawned a little calmer. By noon Sunday it was nice. Despite the winds on Saturday we flew a total of 50 flights and on Sunday we flew 85 flights.
Details in the attached file but in summary 13 different pilots flew 13 different Ringmasters for a total of 135 flights."
Ricardo Arrayet reported from Argentina:
"Sun 10/4/2015 9:53 PM
Place: Mar del Plata city, provincia de Buenos Aires, Argentina.
Day Oct. 3: Rain all the day.
Day Oct. 4: The day began with sunshine but with very strong wind. There were 5 participants Ringmaster and 6 pilots. They were: Mu In total 15 flights were made and could not finish the day by strong wind and the cold. Pilots: Julian Muñoz, Hernan Muñoz, Ricardo Arrayet, Federico Patania, Dario Moules, y Omar Santi.
Total flights: 15."
Ned Kelly at South Hummocks, Australia reported:
"Well, the first time participation in the Ringmaster Fly-A-Thon by the South Hummocks Model Aero Club, South Australia is done and dusted. There was no flying on Saturday because of high winds and some of us not flying C/L since we were teenagers, (some 40 odd years ago), we fly R/C. Sunday afternoon the wind dropped down and we had 6 pilots register and a total of 12 flights, unfortunately I didn't get to fly as my motor would not start, mind you, when I got home I fuelled it up and it ran after 2 flicks, suffering from stage fright I think. The Adelaide Aero Modellers Control Line Club took up our invitation to visit us and participate in the fly-a-thon. Although we didn't get that many flights in everyone had a great day and feedback from the visitors was very positive and they will be back with more flyers next year.
Registered Pilots and number of flights:
John Barbara    3 Flights,
Jeff Prosser    4 Flights,
Jon Witzke      2 Flights,
Ned Kelly       0 Flights,
Maris Dislers   1 Flight, and
Mick Laundy    2 Flights
Can't wait until next year"
Some pilots just pushed themselves to the limit:
Jim Varno from the Fargo ND. Skylarks reported:
"1 flyer,
super ringmaster,
Skylarks home field Fargo.
 56 flights (arm is tired)."
Some Clubs discovered that the
Ringmaster Fly-A-Thon is a really FUN event:
Linda Brainard reported:
"ARVADA ASSOCIATED MODELERS
1ST ANNUAL CONTROL-LINE RINGMASTER FLY-A-THON
Hosted by Chris & Linda Brainard (with the help of Jerry Higgins, Keith McMahan & Jack Pitcher)
It was a great time had by all! There were 8 people who have not flown control-line since the 50's. The last time George Baxter flew was in 1956 on a parade field in South Korea. There was only one who got dizzy and had to get down on the ground before he fell down. All the others walked off the field looking just a little tipsy!!
There were two guys who brought their electric Ringmasters and flew at the same time. Our oldest pilots started from 84, 79, 76 and 73 to our youngest pilots 11, 9, 7 and 5!!
With 12 Ringmaster airplanes, we had 25 pilots, 7 who soloed, 20 flights put up by females for a grand total of 95 flights over the two day event."
John McFayden summarizes the spirit
of the Ringmaster Fly-A-thon nicely!
"The Ringmaster Fly-A-Thon is for many of us the most enjoyable event we fly all year.
Nearly every year it has been cold and crazy windy but we get out and fly and have more laughs than should be allowed.
For myself the Ringmaster was my first "Big" plane several decades ago. Since getting the Toronto group involved with the Fly-A-Thon with a single Ringmaster I have become more and more impressed with how good they can be made to fly. And for pure fun they cannot be beat. Very nostalgic!"
Get a Ringmaster and fly with us next year (2016) to experience the joy of being a part of the Greatest Control Line Fun-Fly on Earth!