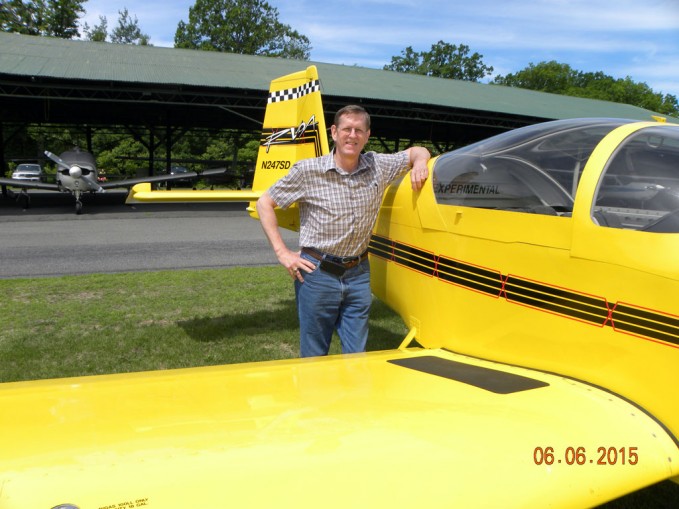 FlyBoyz has now been airborne for two years! It was two years ago today, on November 9, 2013, when I published my first FlyBoyz Aviation Blog post. It has been quite a flight over those two years!
Like my first year, this past year of blogging about my 'Flight of Re-Discovery' has been fun, exciting, and full of new experiences and friends. Amongst my many great aviation experiences of the past year, I have flown in (and, for 15 minutes, taken the controls of!) an RV-9A to a great fly-in breakfast in the Hudson Valley; met online and featured a skilled free flight model builder from Chile; presented my military aviation experiences with Marine One to an EAA Chapter; met a 'Who's Who' of skilled modelers and representatives from the AMA; participated in a world-wide control line Fly-A-Thon; actually built and flown a couple model airplanes; and almost cut my finger tip off with a propeller! Who would'a thunk all that would happen when I started this endeavor two years ago?!
While my approach to FlyBoyz has been to write about aviation topics that I'm personally involved with, that I have some sort of personal connection to, or that I find of particular interest (i.e. what I think is 'cool'), I am also interested in what my readers preferences are regarding the various topics I write about. I have tried to see if there are any specific topics that are more popular with my FlyBoyz readers than others. For example: are full scale aviation videos the most popular, or Radio Control Event Reports, or Model Build Reports, etc… And so I track the number of views for each of my posts (at any time, you can see the top 5 most viewed posts listed in the right hand side bar on the home page of the blog). With all that in mind, here is a list of the Top Ten most viewed posts since FlyBoyz went live:
What I have been able to determine about reader preferences by reviewing this list is absolutely nothing! There seems to be no particular theme or area of interest in my posts that appeals to more people than any other area. What this tells me is that my audience is diverse and their interests are varied. And so my approach of writing about whatever interests me seems to be a good approach for determining what I present to my FlyBoyz readers. My analysis of this may be flawed but until someone convinces me otherwise, I'm going to stick to my approach and hopefully my FlyBoyz readers will continue to appreciate it!
One thing that has been evident in my posts over the past year is my focus on control line model building and flying. Control line is essentially where it all began for me with aviation and so it still holds a special place in my hanger of interests. Despite that, there are plenty of other aviation interests in that hanger that represent (most) all areas of aviation. The issue is getting the time to engage in all of those interests!
I like numbers and statistics. And so I like to track how many people I'm reaching with FlyBoyz…and where in the world they live! I find it interesting to think that someone living in South Africa may actually be interested in reading about my control line flying exploits on the north shore of Oneida Lake in Central New York. There is no accounting for the tastes of some folks!
So here are some statistics related to FlyBoyz for those who also may have an interest in looking at this kind of information.
This first graph shows the number of 'Unique Visitors' who have visited FlyBoyz each month over the past two years. It also shows the numbers of 'Visits' these visitors have made to the website each month.
(Click on graphics to zoom in on them)
As the graphs show, the trends for both statistics are still rising meaning that my audience for FlyBoyz is growing! Monthly Unique Visitors are now over 4,000. What I find most interesting is that during the 6 month period (February – August) this year when my number of FlyBoyz posts went down dramatically due to my house move, the number of FlyBoyz viewers remained constant. And, come September, once I was back in the cockpit and started publishing more regularly again, the viewership took off again! I want to thank everyone for their continued support of FlyBoyz during this period while the blog was in the hanger! I look forward to reaching more viewers with my aviation exploits as time goes on.
As for where in the world FlyBoyz viewers live, I think this graphic says it all. They live all over the world! However, I still have not had a viewer dot appear in North Korea…they are a tough market to crack open!
And here is another graphic of FlyBoyz visitors from North America:
I am still enjoying my flight of re-discovery! And believe it or not, I actually enjoy writing about it in this blog. I actually look forward to what my next blog post may be about. I also look forward to increasing the amount of time I can spend building and flying my models! This past year has been very frustrating given the number of external circumstances that have dug into my modeling time. I think retirement may be a partial solution to that issue.
Besides the modeling end of things, there are still lots of new avenues for me to explore and friends to be made in my re-discovery of aviation. And I am anxious to see where all those new avenues will take me. Make no mistake about it; you'll all be the first to know!
As for the blog itself, I have ideas for new features and functions and some of them are already in the works. The feedback I get relating to FlyBoyz is overwhelmingly positive (Thank You, everyone!) and it leads me to believe that I have hit a sweet spot for aviation buffs of all flavors. What I'd like to do is to continue expanding that sweet spot. Hopefully, I will be successful and FlyBoyz will reach even higher altitudes. So stay tuned!
---
If on your part, you have enjoyed FlyBoyz and want to ensure that you stay up to date on blog posts, just click the Register link at the end of this paragraph and join FlyBoyz as a member (it is free!). You'll receive an email notification each time a new post is added to the blog. Register
Finally, I would like to once again end this annual review with a shameless request for donations. While I will continue publishing FlyBoyz as a 'Free' venue, there are costs involved in doing so. If you have enjoyed or received value from anything presented in FlyBoyz over the past year, I would ask that you please consider making a donation to help offset some of those costs. Expressing your gratitude by sending a donation will help me to continue bringing you new articles, information, videos, and topical thoughts. The amount you donate is entirely up to you. If you would like to make a donation, you can do so by clicking here: Donate. I thank you in advance for your support!