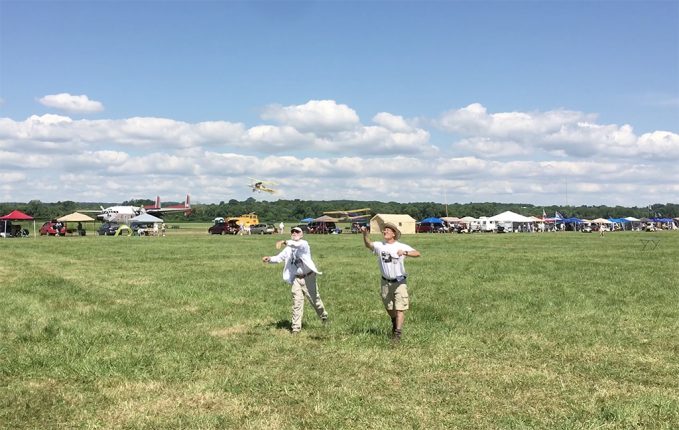 I attended the Flying Aces Club (FAC) 2018 NATS in Geneseo this past Thursday and besides watching a great WWI Mass Launch event, I got to see a real display of FAC sportsmanship in action.
At the end of the 'regulation' flying rounds, Wally Farrell was declared to be the winner of the event. Problem was that Wally didn't think that he rightly deserved to be declared the winner. It turns out that there had indeed been a discrepancy in the recording of the flight time for Tom Nallen Jr's. last round flight and he should have received First rather than Second place in the event. To ensure that everything was done 'fair and square', it was decided that Wally and Tom would have a special 2 pilot 'Fly-off' round to determine the winner.
At the end of the round, Tom's plane managed to stay aloft a bit longer than Wally's and Tom was declared the winner of the WWI Mass Launch event. While it was cool watching the planes fly, what was really cool, was to watch Wally cheering on Tom once Wally's plane landed. The FlyBoyz video below documents the entire chain of events for the WWI Mass Launch.
At the end of the day, there were two winners in the WWI Mass Launch event. Tom may have won the flight duration part of the event, but Wally won the Sportsmanship part!!