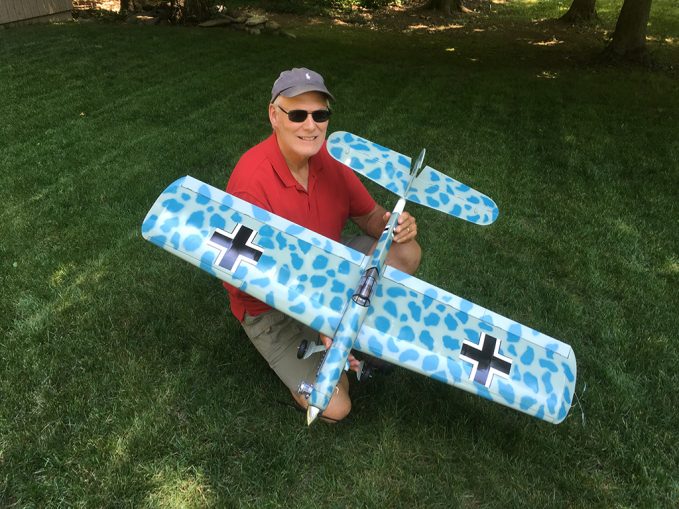 My control line flying buddy has been busy building planes, three of them to be exact! Over the winter building season, Steve Dwyer has built a Fancherized SIG Twister, a Zilch X, and an ME109…all control line stunt planes. This past July 4th, Steve flew the maiden flight of the ME109. We had worked to fly the maiden flight a week earlier but issues with a new Fox .35 stunt engine that Steve had installed had resulted in a flight delay. With another engine in the plane, Steve, along with a group of supporters and onlookers, was ready to finally get the new plane airborne.
Gunther was frustrated, a state no one wanted to deal with him in. His new ME109 was set for its maiden flight but the engine was proving to be difficult. Finally, Gunther was done with the delays and demanded his maintenance crew replace the engine. A quick search turned up a used but otherwise reliable engine that could power the plane. The maintenance crew worked thru the night on the engine swap while Gunther drowned his frustrations at the local biergarten. While the bier helped his foul mood, Gunther was once again getting frustrated to find that his favorite fraulein's were otherwise engaged for the evening. As he reached for his Luger to demand some 'service', he glanced to his left and saw a familiar face. He holstered the Luger, took another swig of his bier, and approached his old friend, Baron Johann von McMakin.
The model is a semi scale ME109 stunter. Steve had originally built this model when he was a teenager of 14 yrs. from plans designed by James Baker (November 1956 Model Airplane News) who flew his ME109 in the 1957 Nationals in Texas that year. Steve wanted to build a second ME109 in recognition of a 94 year old friend, Bob Craft, who helped him build the original in 1961. Steve contacted Bob last year after having lost touch for over 40 years. He took Bob model flying and promised to build another ME109. Bob asked that the color scheme be after the North Africa desert squadrons, each group had their own schemes depending on the terrain and camouflage required. Steve scratch built the plane from original plans and made several modifications to the plane in order to improve its flight performance and bring the plane up to more modern standards. Modifications included a larger wing, thicker airfoil, longer fuselage, and larger tail feathers. For power, he is using a traditional Fox .35. Steve plans to meet with Bob, who lives in the Albany area, soon for a demonstration flight of the model.
Gunther had met the Baron years ago in flight training. Despite the aristocratic roots of the Baron, he and Gunther had struck up a friendship that lasted well beyond their flight training. The war had come between them and while Gunther was off chasing Mustang pilots, and frauleins, the Baron had been directing new product development for a secret program rumored to involve jet engines and remotely controlled airships. But the Baron had been anxious to become airborne once again. However, his flight skills were rusty. Upon seeing Gunther, he determined that he would impose upon his old flying buddy to refresh his flying skills and give him a check ride in one of those new ME109's. Gunther was amenable and set a date for the flying session.
With fellow STARS member John McMakin performing launch duties, the ME109 was airborne on what proved to be a slow, majestic flight! Steve had determined that the first flight would be straight and level only (no aerobatics) and a too rich engine setting assured that flight condition! With that one exception, the flight went without a hitch and was deemed a success!
Early the next morning, the maintenance crew announced that the ME109 was ready for initial flight trials. Rubbing the bier suds from his eyes, Gunther climbed into the cockpit and was quick to gun the engine and take the ME109 airborne. The flight was uneventful but not to Gunther's satisfaction. The engine needed further tuning in order to reach full power output. The slow engine run resulted in a stable flight but not enough power for full aerobatics. Gunther returned the plane to his maintenance crew and told them, as he patted his Ruger, that the next time he took the plane up, he wanted full engine performance or 'their heads would roll!'.
Steve took many photos during the building of this plane and they have been put together into a 'Build Video' in an attempt to document the build for everyone to watch. The build photos are then followed by video of the maiden flight of the ME109.
Congratulations Steve, on a beautiful build and a successful maiden flight! Now enjoy the video!