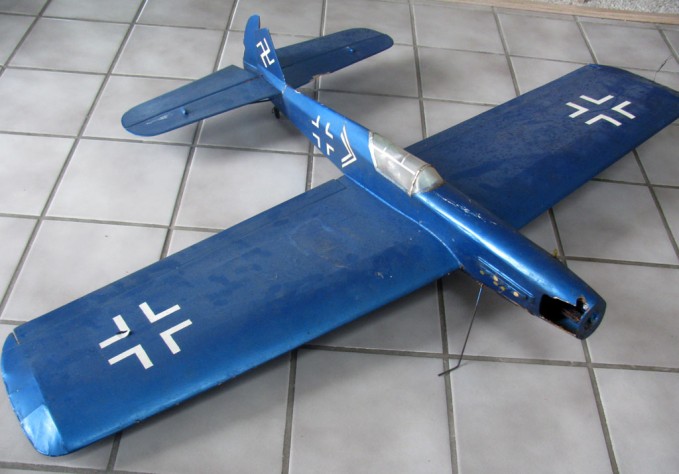 My email brought me another update from my FlyBoyz control line flying buddy, Steve Dwyer. He has started a restoration of another of his vintage planes and has provided me with photos, plans, and a wonderful story about contacting the planes designer.
I really like the looks of this plane and look forward to future updates on Steve's progress. Enjoy his update!
(Click on photos to zoom in on them)
---
Old Time Control Line Flying – Update
In early 2014, FlyBoyz presented a story describing my experiences returning to my childhood passion of flying control line model airplanes. My enjoyment began with finding the 'mystery' plans for my Guillows Trainer and then once again scratch building this very first model kit I built as a teenager over 50 years ago. I described my disappointment discovering how today's hobby shops evolved completely away from the traditional model airplane shop I grew up knowing. I also described locating a gas engine and completing the Trainer and ultimately restoring several additional aged model planes found in the attic and naming each plane 'A Flyer' after a different grandchild. Finally and most importantly, I described how my experience of getting back into model airplanes had brought back the nostalgia, memories and rekindled that passion thought to have been long lost.
It is now late March 2015 and with the cold still grasping us, I look out the shop window and think back to last Summer when a bunch of us old timers would meet occasionally at a flying field to polish our skills as pilots with a unique variety of model planes. Thinking it won't be long now before we meet again, I remind myself I better get some work done which brings me to my current project of restoring a Messerschmitt ME 109 model.
My ME 109 is another 'attic' model I built as a teenager at about 14 years of age. In the early 1960's, only a brief time after the end of the Second World War, the fascination with aircraft especially war birds resulted in many young people building and flying model planes. The ME 109, or more correctly the BF109, was a primary fighter Germany had developed in the early 1930's and it was used throughout the Second World War on the European front. It drew much attention as a capable fighter against the British Hurricane and Spitfire and later the American P 51 Mustang and especially in the Battle of Britain. As with each air war there would be the flying aces and Germany had many, of particular interest to me was Adolf Galland, having primarily flown the 109, reached the rank of Generalleutnant (Lieutenant General) and was awarded the highest honor, the Knights Cross with oak leaves and swords, having scored 104 aerial victories. He was responsible for many improvements to the 109 and left the war with high esteem for his overall accomplishments. Each squadron wing would have their own distinct insignias and aircraft colorings. The German Luftwaffe had to be reckoned with and the ME 109 has always fascinated me as one of Germany's finest aircraft. So, at 14, I decided to build my Messerschmitt.
This ME109 model I built was first introduced in the November 1956 Model Airplane News Magazine. Frank Baker designed it with a 48" span using a Fox .35 engine; he competed with it winning many awards. Frank was also known for his companion Spitfire he also designed during the same period. Photos below show Frank in the August MAN with his ME 109 and the construction drawing.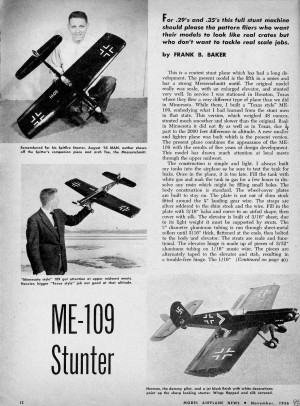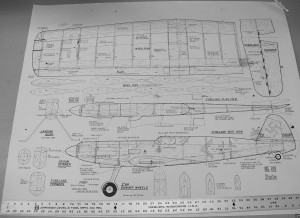 In my usual quest for detail and curiosity about the designer, I was able to locate Frank, now in his late 80's. Frank recalls flying his 109 and described how he competed against George Aldrich the designer of the Nobler and lost. Frank went on after the Air Force to design many model airplanes and later wrote a book on his experiences restoring a J-3 Piper Cub and flying it around the entire country. Frank wished me luck with getting my ME109 back into the air. This was a fascinating experience for me making contact with Frank, little did I know when began building this model I would have a discussion with the designer 50 years later.
I've include several pictures of my 109 as it recently came down from the attic storage. I have since stripped the covering and removed the original finish. I am presently repairing the front bulkheads that support the landing gear. The tail section was damaged and has been taken apart; I am installing reinforcements for the horizontal stabilizer. I plan to use a Fox .35 as the cowling is too tight for a larger motor. I plan on a number of additional improvements before recovering the plane with fabric as original. The color scheme will be after Gallands Jagdgeschwader 26 (JG 26) Luftwaffe fighter wing.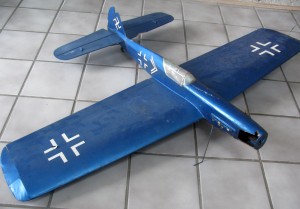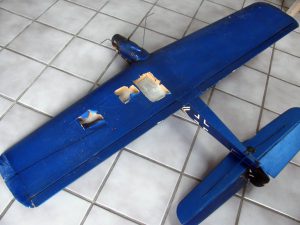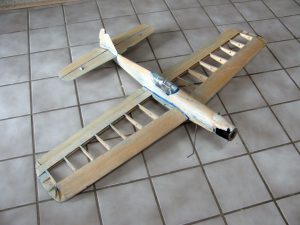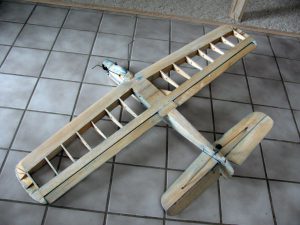 Repairs are well under way; I will continue to bring progress updates to FlyBoyz.
Steve Dwyer