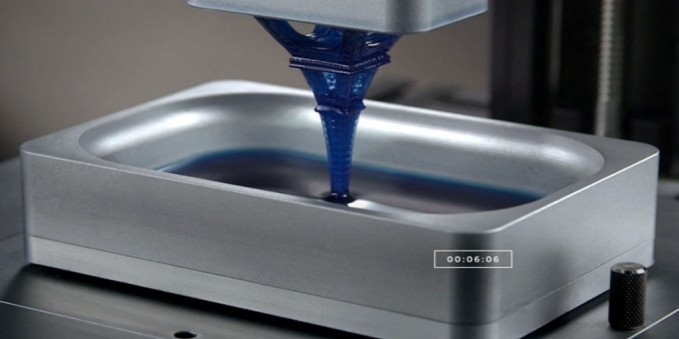 For quite some time, I've considered starting (or buying) a small 'cottage business' for my retirement.
Specifically, I've considered buying a Laser Cutter to be used in producing and selling small model airplane kits, or model railroad structure kits (my other hobby), or model rockets (my other, other hobby). Then, several months ago, my interests turned to possibilities with 3D Printing. Buying a Makerbot 3D Printer would offer possibilities for producing speciality scale parts for model planes, trains, or rockets. Or, I could cover both bases and buy both a Laser Cutter AND a Makerbot! This past weekend, at a model train show that I attended, I sat in on a modeling clinic called 'Introduction to Laser Cutting'. The clinic convinced me that laser cutting seems to be a very doable activity.
But then, earlier this week, all my 3D printing plans got discombobulated!! I learned about CLIP 3D printing which was just announced two weeks ago by a company, Carbon3D, that has been developing a new 3D printing technology while in 'stealth mode'. And it will prove to be a 'game changer' technology! The only issue now is getting the cost of the technology down low enough that it will be affordable to someone wanting to use it for a home based 'cottage business'.
So what am I talking about??
Rather than trying to explain, I'll just show you. What follows are two brief videos which show this new technology in action.
Video #1:
Video #2:
Now, if those two videos piqued your interest, here is a TEDTalks video with the co-inventor of the technology explaining how it works and the ramifications of applying it to manufacturing:
Personally, I believe that 'traditional' 3D printing just became obsolete. And I can't wait to see how CLIP develops and to see how, and WHEN, I can utilize it in my 'cottage business'.
If you are interested in CLIP 3D printing, I would encourage you to take a few minutes to read a brief article on this new technology. This is just one of many articles that I'm sure will follow the progress of this exciting new technology. Here is a link to the article: Carbon3D CLIP 3D Printing