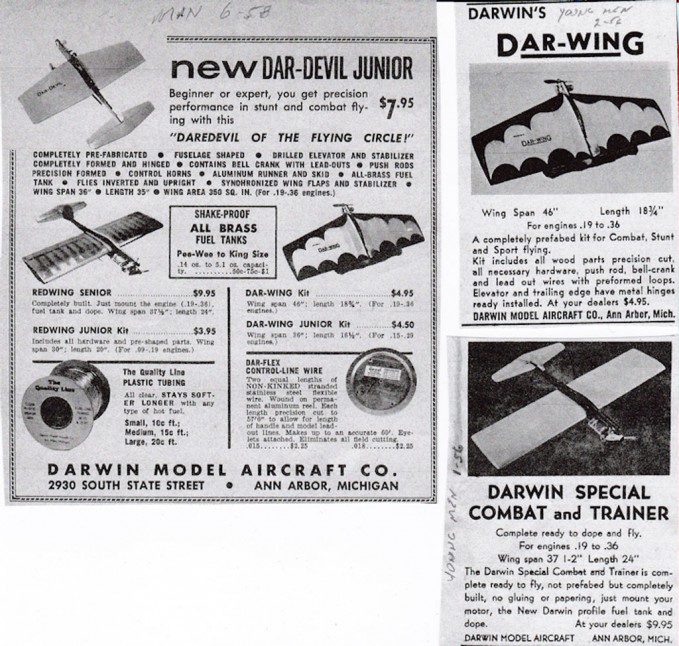 My aviation activities, including work on the FW-190, have been greatly curtailed over the past month due to other events in my life. I did manage to stop by my clubs flying field Friday night to check out the Control Line area in hopes of flying today. My Mustang and my new launch stooge are all ready to go and the three feet of snow we had here locally has finally melted (well, mostly melted!) so I was hoping that the field was dry enough to fly from. Well, it still looks a lot like a lake in the C/L area so I wasn't able to fly today and I doubt that I'll be able to for a couple weeks for that matter.
However, while things have slowed on my end, my FlyBoyz control line flying buddy, Steve Dwyer has been doing his best to fill the breech! He has provided me and my FlyBoyz readers with another update to his control line activities which seem to be going at an ever accelerating rate! Steve has been involved in some really interesting historical investigations related to the planes he has owned for 50+ years and is now resurrecting. I hope you are enjoying these updates from Steve as much as I am!
(Click on photos to zoom in on them)
---
Old Time Control Line Flying – Update
In January this year, I posted an inquiry on FlyBoyz regarding the Connor Flyer. This was the second model airplane I had dragged down from the "attic" to restore which ultimately became one of the Grandkids Flyers.
Each trip to the attic has been a trip back to the past resulting in my restoring a control line model plane I built as a teenager some 50 years earlier. I now realize how fortunate I've been to have had the space to keep these antique birds; aside from torn fabric and some broken ribs they are in reasonably good shape considering the many moves.
The orgin of the Connor Flyer has always been a mystery. After no response from the posting, I decided to contact Barry Baxter's Control Line Plans Service. I found Barry had two flying wings called Dar-Wings with the unique split fuselage bolted through rudder and tail skid configuration as the flyer did.
From this, I did an on-line search and discovered the Dar-Wings were manufactured as kits by the Darwin Model Airplane company. My curiosity led me further and I made contact with a William (Bill) Darwin a grandson of the Company founder, Roy F. Darwin. Roy passed away in the 80's.
Bill was helpful sharing about his grandfather and the company. Roy had three sons and the middle son, LeRoy, now in his 80's, was the most involved helping his father in the 40's and 50's with the company. Bill gave me his uncle Leroy's address and I contacted him. LeRoy was helpful and interested in giving me information about his father and his experiences as a youngster in the company; he was surprised someone would be interested in a model airplane company that essentially ceased to exist some 30 years earlier. I explained how I had gotten back into control line flying after 50 years and had built one the the Darwin Company models. Both Leroy and his wife Sue were very supportative in sharing the company history through a series of emails and photos. Leroy recalled a number of model designs and worked helping his father building a famous brass fuel tank the company was known for which allowed models to fly inverted, he said they sold over a million of these tanks mostly to some distributor model company in New York State.
In the mean time, Barry came back with a Darwin advertisement he located showing the various models the company offered in the 60's. The Connor flyer is clearly shown as the Redwing Junior in the lower left which sold for $3.95.
The brochure had nothing about the fuel tanks but I recall seeing a brass tank on someone's profile model years back. Again, as I described previously, the Redwing Junior had a 29″ span, the bellcrank and lead out wires were exposed below the wing and the rudder and tail skid were made from aluminum bolted through the fuselage. Another interesting point I discovered was Darwin was one of the first companys to provide an "ARF", the Darwin Special Combat and Trainer shown at the lower right describes the model available completely ready to fly. Apparently the Darwin company was one of the pioneers in ARF's. I'm sure this posed a number of interesting problems with shipping the pre-built airplanes. Barry also came back with information about another company, the Brown Company Flying Wing. The photo shows the almost completed wing.
Clearly the early model kit manufacturers felt there was a market early on for the anxious flyer wanting to get into the air as quickly as possible. The Dawrin Special sold for $9.95 (not cheap for a 37″ span size ship in those days).
I have attach several photos of completed Dar-Wings that Leroy and Sue still have hanging in their home that Leroy built as a teenager. The Darwin company was in Ann Arbor, Michigan where the Darwin's still reside. As for historical interest, there isn't much left of company information. There may be some old documents and drawings but everything has been buried for years in storage. Both were gracious and we had an enjoyable telephone conversation. I was invited to visit them and was welcome to access the buried information. I explained my goal would be to preferrably locate a historical organization where this material could be properly archived (Editor Note: possibly the National Model Aviation Museum). I sent the Darwin's a photo of the Connor Flyer as restored with my grandson proudly holding his new bird. I have tucked away in my plans to hopefully visit Leroy and Sue someday.
The Connor Flyer now has a Fox .19 on it with a 8×6 prop, we expect to give it a trial run this Spring along with the ME 109 which is progressing along well.
My quest to uncover the origins of the Connor Flyer is now a mystery solved! A special thanks to Barry Baxter for his help in solving this mystery. For anyone interested in locating plans of the 50's and 60's old time combat and stunters, Barry is the place to go.
Steve
4/2015