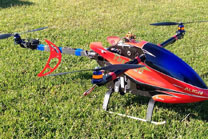 FlyBoyz Chuck LeVine is the President of the Syracuse Thunderbirds Aero Radio Society (STARS) R/C Club and has submitted the following article, which it is my pleasure to present here on FlyBoyz as a Guest Post.
This article is very much in keeping with one of the themes of FlyBoyz, which is to promote the building and modeling aspects of the model aircraft hobby. Chuck has conceived and scratch built his own model aircraft, only instead of using balsa and tissue, Chuck is modeling in circuit boards, servos, and electric motors. And the results are Radical! Enjoy the article and accompanying photos and video and please feel free to make any comments related to Chuck's great modeling.
And Now for Something Completely Different – A TriCopter Saga
Being a tinkerer at heart the emerging field of multirotors caught my eye. The concept of building from scratch an RC flying device at very reasonable cost was the goal. With the advent of multiple choices of electronic flight control boards with extremely versatile capabilities and reasonable costs the projects could become a reality quite easily.
Thinking though the idea I decided to start with an inexpensive ARF kit and control board, in order to expedite my learning curve, so I purchased a quad that came with the ESC's, motors, props and frame complete. In order to gain flight experience and understanding of the flight control boards, I just needed to add the controller to my purchase. I chose the KK2.0 board from Hobby King as it allowed for making programing and setup changes easily directly on the controller itself.
1st Quad
(Click on the photos to get a large image with higher resolution)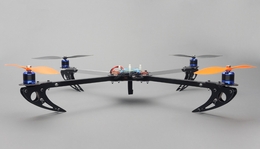 1st Flight Controller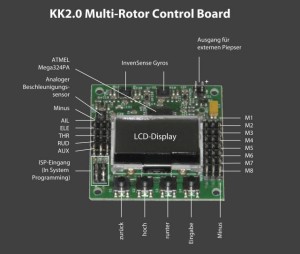 With the first effort flying well and with a reasonable understanding of the required flight characteristics, I moved into the area of scratch building my first TriCopter utilizing the same flight controller. At this point I cannot emphasize enough the importance of the Internet. There is a wealth of data available to help develop the information base necessary to accomplish this kind of project.
The first scratch built TriCopter as a proof of concept was made entirely of wood. The 3/4" solid poplar arms came from Home Depot, along with the 4" PVC pipe for the landing skids. The main flat pieces are model aircraft ply from Walt's hobby.
1st Proof of Concept TriCopter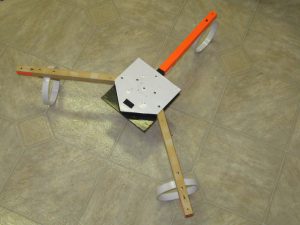 Yaw Control Setup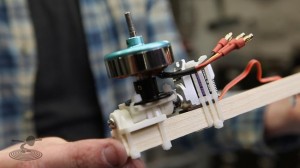 One of the most difficult parts of flying a TriCopter is yaw control. As in the picture above, this is accomplished by moving the tail rotor by means of a servo. The motor mount and pivot point are made from a Front Wheel Steering Arm & Mount Set 40mm and controlled by a micro servo, held in place by zip ties. Simple and effective.
Now with this example flying very well, not being able to leave well enough alone, I decided to build a much larger and hopefully a more interesting TriCopter. This is where having lots of bits and pieces lying around my workshop came in handy. Having an old helicopter airframe helped greatly. I disassembled my first TriCopter and utilized as much of it that made sense and used as many of the pieces from the TREX 600 helicopter as I could. The result is pictured below.
Finished TriCopter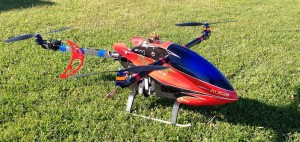 This appears to fly well, currently with 11.4" props and a 2600mAh lipo 11.1-volt lipo battery. Flight times and full flight characteristics are not available yet as this build was just completed. I have hovered it and it looks quite stable and I believe it will fly well and be quite aerobatic.
This video shows the second hover flight.
Obviously, I have not gone into intricate detail on building a multirotor craft as it would take many more pages and considerably more time, but I would hope that this short article might encourage you to enter the fascinating world of multirotors.
Reference Sources:
KK2.0 Board –  http://www.hobbyking.com/hobbyking/store/__44296__Hobbyking_KK2_0_Multi_rotor_LCD_Flight_Control_Board_USA_warehouse_.html
Scratch Built TriCopter – http://flitetest.com/articles/tricopter-scratch-build
Props, Motors, ESC's – http://www.valuehobby.com/multicopters.html