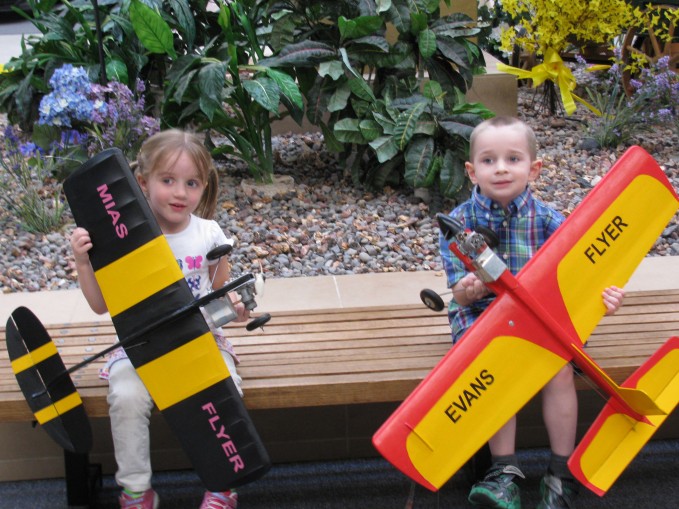 My FlyBoyz control line flying buddy, Steve Dwyer, has updated me with another report on his most recent building and restoration efforts. He also has a request concerning one of his planes and is hoping there may be a FlyBoyz reader who can help answer his question. He would like to find out more about the kit manufacturer of the 'Conner Flyer' that he describes in his guest post. Hopefully someone will have a response.
As can be seen from the photos, Steve is certainly doing his part to encourage the next generation of model aviators and control line aviators in particular!
Enjoy Steve's post and feel free to comment.
---
Here's the January 2015 status of control line model building out here on the North shore of Oneida Lake (New York).
The latest of the three flyers has joined the fleet. Three year old Connor proudly holds his Connor Flyer along with his 6 year old sister holding the Mia Flyer. Previously 6 year old Evan was pictured holding his Evan Flyer. For now the new pilots like pulling on the lead outs watching the movement of the elevators, we plan a busy Spring when the grass turns green and we all can get into the air. All pilots will of course be wearing their bike helmets when standing in the center of the flying circle with their "Pops" helping them fly.
(Click on the photos to get a larger image with higher resolution)
The Evan Flyer is scratch built from plans of a Guillows Trainer 2 with a recently mounted Torpedo (Green Head) .35 on it's nose, it flew last Summer by Evan's dad Matt with a Fox .19 but was a bit sluggish. The Mia Flyer is a 50+ year old rebuilt Ringmaster Junior found in a trash bin which fly's very nicely with a Fox .15.
The Connor Flyer is a an unknown 54 year old model I built when I was 13 years of age. I can not recall what model it was. I have attached several photos showing it close up, anyone that can identify the plane and kit manufacturer I'd appreciate it. I checked through old plans from Berkley, Veco and Midwest with no luck. It has a 29" wingspan, the bell crank and lead outs are exposed under the wing, it was built from a split fuse that included metal rudder and tail skid all held with two bolts. I've installed a Fox .19 on it, it originally flew it with a Fox .35 but I recall it was nose heavy, hopefully it will now fly better.
There is nothing to report yet on the ME 109 rebuild, now with the holidays behind, I expect to get started soon.
Steve