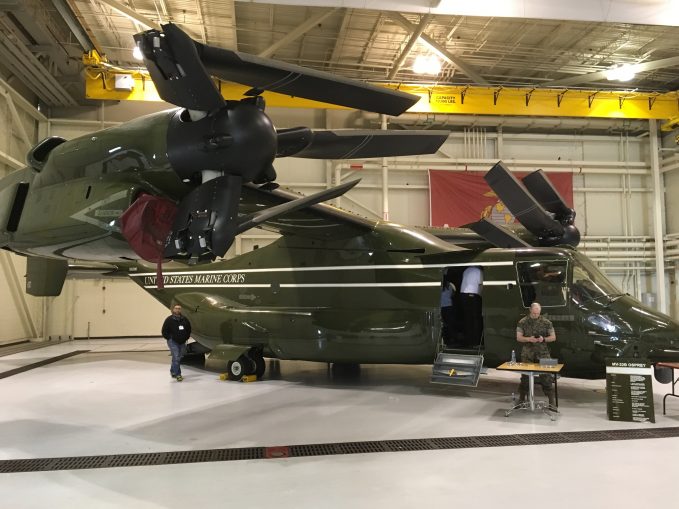 During my recent visit to HMX-1 at MCAS, Quantico, I got to see one of the Marines newest aircraft up close and personal…the MV-22B Osprey!
The Bell Boeing MV-22B Osprey has replaced both the CH-46 and the CH-53 helicopters within the Marines aircraft inventory. HMX-1 has several of these aircraft assigned to them for use on the 'Green' of the squadron. The 'Green' side of HMX-1 serves a multidisciplinary role which includes both experimental and operational missions. The operational missions include providing logistical airlift support for Marine Corps officer candidates undergoing training at Quantico. During my visit, one of these Ospreys was staged inside the hanger for visitors to inspect both inside and out. And to everyone's excitement, during the Open House, three Ospreys returned from an operational mission and provided everyone with a great display of them in flight and landing.
I spent a bit of time exploring and examining the Osprey that was in the hanger. It is very impressive. Like most military helicopters, the rotor blades fold for storage in hangers and when deployed shipboard. Coupled with the rotating engine pods and rotor heads, it is crazy how these aircraft tuck themselves away for storage.
One of the things that most impressed me about the Osprey that I inspected was how clean it was both inside and out. The old CH-53's that I used to work on would seemingly cover you in hydraulic fluid just by standing inside of them. Not so this Osprey. Once I finished my inspection, I approached three of the senior enlisted Marines who were responsible for maintenance of the Osprey. One of them was the Master Gunnery Sergeant (E-9) who was in overall charge of aircraft maintenance for the 'Green' side of HMX-1. I complimented him on his bird and noted how clean it was. He beamed and proceeded to tell me that he had served on the 'White' (Presidential) side of HMX-1 in the past and had learned about 'cleaning' aircraft while there. He took those same cleaning standards and has applied them on the 'Green' side. He did say that it was a bit harder to maintain those standards after hauling a platoon of muddy, sweaty Marine officer candidates from the fields as compared to ferrying the President around, but his efforts clearly showed from what I saw! Here are a few photos of this aircraft.
(Click on photos to zoom in on them)
About the time I finished talking with the Osprey Marines, I heard that there were three Osprey's landing just outside the hanger. I didn't get into camera position in time to film much of their landing but I did manage to snap several photos..
Once I got into camera position and had taken a few photos, I realized that what I should really be doing is video taping the birds landing! By the time I had the camera switched over to video, the landing action was mostly over and what I got on film was mostly taxiing and preparations for shutdown. But even that was worth the effort. As you watch this video, pay attention during the first few seconds as you can see the last Osprey touch down behind the other two. Enjoy watching these impressive Marine Corps aviation assets!