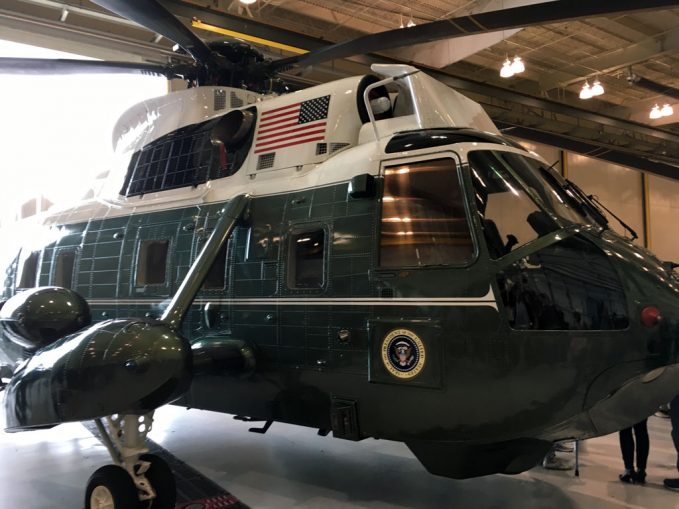 Last weekend, my wife and I travelled to MCAS (Marine Corps Air Station), Quantico, Virginia to attend the Marine Helicopter Squadron One (HMX-1) 70th Anniversary Reunion. This was a gathering of all Marine Corps personnel who have ever had the honor to serve with the Marine Corps Presidential Helicopter Squadron. What a great event!
There were 3 days of reunion activities stretching from the Marine Corps Barracks Parade at 8th and I in downtown Washington, D.C. to the final reunion dinner held in Fredericksburg, Virginia. But the central highlight of the entire reunion weekend was the Squadron Open House held at the HMX-1 Hanger at Quantico where several of the Presidential helicopters were on display for up close inspection, the active flight line was right outside the hanger enabling attendees to watch military helicopters and planes landing and taking off, and hundreds of Marines and their families were able to reunite, share their stories, purchase some great HMX-1 memorabilia, and partake of a great BBQ lunch served up for everyone's enjoyment.
I had the great pleasure of personally meeting up with at least a dozen of my former HMX-1 Marines who had served with me during the mid 1970's. I had not seen these guys in over 40 years! And all those years proved the saying true about each and every one of us: 'Not as lean, Not as Mean…But Still a Marine!'. LOL!
One of the highlights for those of us who served during the 1970's was meeting up with our Squadron Commanding Officer from that time period, Colonel Pirney. While not personally flying the President of the United States around anymore, Col. Pirney is still the #1 pilot in the eyes of all us former HMX-1 personnel. We managed to get him to sit long enough to pose for a few photos with all his former Marines alongside one of the Presidential birds. What an honor it was to be in the same photo with this crew of Marines!
(Click on photos to zoom in on them)
For security reasons, photography was limited during the Open House event so I am prohibited from displaying some of the photographs of the event, however, you can hopefully get an impression of the Open House from the photos I have displayed in this post. I will be adding a couple more posts to FlyBoyz over the next  week or two with some additional aviation film I am able to display so check back soon for more.
There was only one disappointment associated with the weekends events. Many of us were hoping to be able to tour through the old 'Cage' hanger and shops that we worked in during the years we served with HMX. It turns out that a new (large!) hanger facility was built several years ago to house the current squadron of birds and their associated maintenance support shops. The former hanger and shops were torn down about 2 years ago. This photo shows what is left:
I missed being able to see my old Paint Shop. Despite the loss, it was great to be able to see the new facilities which are indeed up to 'Presidential Standards'!
Plans are already underway for another reunion in 5 years to celebrate the 75th Anniversary of HMX-1. The current Commanding Officer of HMX-1, Colonel Bufton, indicated that the conversion of the squadron to the new Presidential Helicopter, the Sikorsky VH-92A, will be well underway at that time and the new birds will be on display for us. You bet I plan to be there for the 75th!!