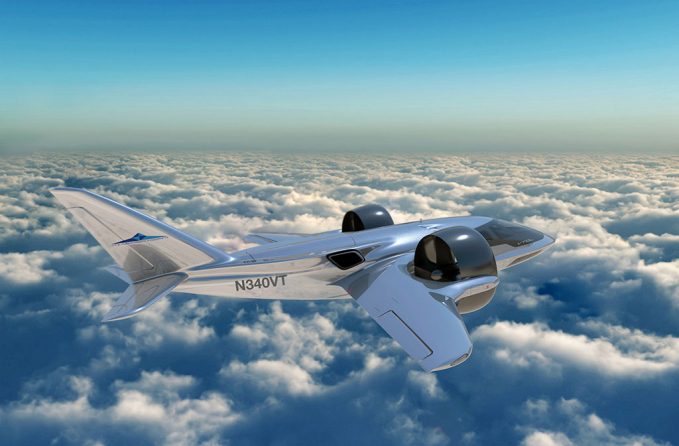 About 2 years ago, I became aware of a new (full scale) startup aviation company and the revolutionary new aircraft they were designing. XTI Aircraft was starting to make news with their new design concept plane called the TriFan 600. Besides looking like a really cool aircraft, what intrigued me about this plane was the fact that it incorporated elements of both rotor wing and fixed wing technology, both of which I had experience with in my aviation background. With their design of the TriFan 600, XTI Aircraft was intending to introduce a new type of aircraft to the personal and corporate aviation markets. Using three ducted fans, the TriFan 600 lifts off vertically. Its two wing fans rotate forward for a seamless transition to cruise speed. Within just 90 seconds, the airplane reaches cruise speed – where the lift is provided by the wings just like every other fixed-wing airplane. The fuselage-mounted fan, no longer needed, closes up. The airplane flies directly to its destination and reverses the process. Landing vertically right where it needs to be – wherever there's a clear helipad-sized paved surface. With a cruise altitude of 35,000 feet and speed of 400 miles an hour, and with a range of up to 1,600 miles, the six-seat aircraft will have the speed, range and comfort of a business jet and the ability to take off and land vertically, like a helicopter. Very cool!
This brief video gives you a visual of the concept:
Intrigued by this concept, I began some further investigation into both the background and the future plans of XTI. I learned about the founder and Chairman of the company, David Brody. Ten years ago, David Brody founded a helicopter company, AVX Aircraft Company, to develop and introduce advanced rotorcraft technology — coaxial rotors replacing the main rotor, combined with two rear ducted fans for propulsion and directional control. The purpose of this new helicopter was to make rotorcraft faster, safer, and more compact  (no tail or tail rotor) and therefore more accessible to the mass market. AVX Aircraft Company (unrelated to XTI except for Brody's connection with both companies) later found its market opportunity with the U.S. military, and continues to grow in size and stature.
In 2012, Brody decided to renew the pursuit of his original vision of transforming flight for the commercial marketplace, ultimately bringing a family of vertical takeoff airplanes to market. This led him to form XTI Aircraft Company and design the TriFan 600 as the world's first vertical takeoff airplane. Brody partnered up with Jeff Pino who was the former President of Sikorsky Aircraft. In his role as Vice Chairman of XTI Aircraft Company, Jeff was the corporate strategist, visionary and expert in all things aviation. Charlie Johnson, the former president and COO of Cessna, a leading business jet manufacturer, was also enlisted into a senior leadership role with the company. What appealed to me about this leadership team was the combination of leaders from both Sikorsky and Cessna. Rotor wing and fixed wing design and manufacturing experts working together on a plane that incorporated the best elements of both technologies.
Unfortunately, in February 2016, disaster struck this team. Jeff Pino loved flying and owned a vintage WWII P-51 Mustang. Last February, Jeff was killed when his Mustang crashed. Losing a principal founder of a start-up company at such an early stage of their corporate development would be a death blow to many start-up companies. Fortunately, XTI Aircraft has weathered the blow. Charlie Johnson stepped up into the role of XTI's interim CEO. Last month (February 2017) XTI announced that Robert LaBelle has joined XTI as its Chief Executive Officer. He joins XTI after three years as CEO of AgustaWestland North America. Prior to that he served as President of AgustaWestland Tiltrotor Company, Inc., the company supporting the development of the AW 609 Tiltrotor. It was also announced that Johnson will remain on XTI's board of directors, a position he's held since 2014. This arrangement keeps intact one of the chief elements that I found attractive with XTI, the combination of leaders from both rotor wing and fixed wing design and manufacturing companies.
Despite the loss of Pino, the company forged ahead with the aircraft design all with the intent of producing a 65% scale prototype. Earlier this month, they announced a major design change with the switch to hybrid-electric propulsion. XTI has teamed with electric propulsion specialist Bye Aerospace to develop the hybrid-electric system. Replacing twin turboshaft engines, gearboxes and driveshafts with a turbine-driven generator, batteries and motors will reduce purchase and operating costs while providing similar performance, says new CEO Bob LaBelle. Because of the lower weight and cost of the system, the planned TriFan prototype—which was to be built at 65% scale—will now be full size.
(Click on photos to zoom in on them)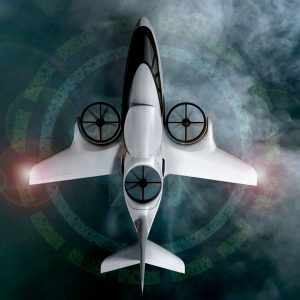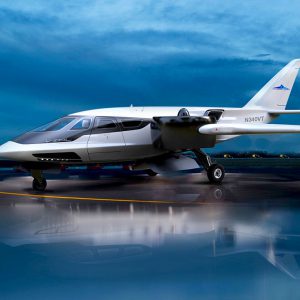 In addition to all the design and functionality aspects of the TriFan 600, there was one more aspect to XTI Aircraft that intrigued me. And that was the possibility of participating in the launch of this new company as a financial investor. Utilizing a new law that allowed for Crowdfunding investments, XTI launched a formal stock offering in 2016 under SEC Regulation A+. This provided a unique opportunity for the general public to invest in an aerospace company with a game-changing product, a world-class leadership team, and significant growth potential. The initial crowdfunding campaign soared to $4 million. And I am happy to say that I put my money where my mouth is and made an investment. In addition to the equity crowdfunding financing, in the fourth quarter of 2016 XTI opened a $20 million Series B round for accredited investors only, led by Wall Street investment bank, Primary Capital.
All in all, I am very Intrigued by everything I have learned about XTI and I am looking forward to following their story into the future. And who knows, maybe one day my small investment will pay off enough for me to purchase my own personal TriFan 600! Well one can dream, can't one?!.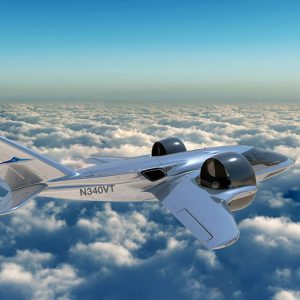 For information and updates about XTI Aircraft Company and the TriFan 600, visit XTI Aircraft. For additional company information, including how to invest, go to www.startengine.com/startup/xti.
[Legal Disclaimer: This FlyBoyz post is in no way to be deemed a solicitation for investment nor is it an endorsement of potential future gains by any financial investment made by my readers.]