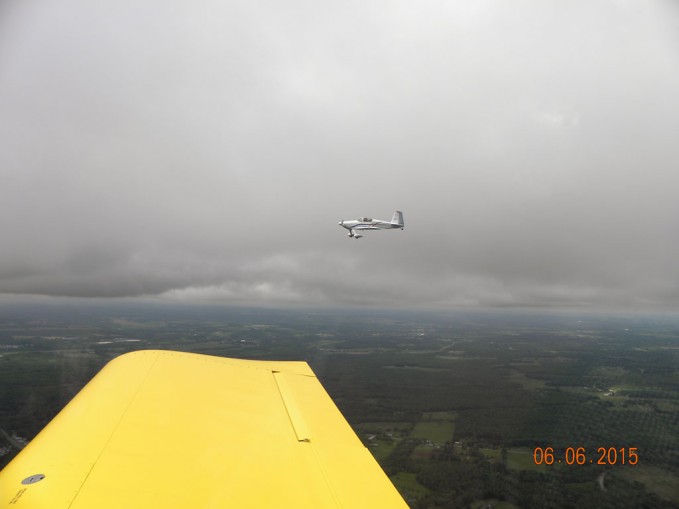 Even though the number of days left to pack before our house move are getting shorter and the packing seems to be never-ending, I bagged one of my two free days this past weekend to go flying! Literally and literally!
My control line (CL) flying buddy, FlyBoy Steve Dwyer has been egging me on to fly CL with him for a couple weeks now. He sends me 'flight reports' of his CL flying escapades about twice a week. Steve also owns a real plane, an RV-9A that he built and that I've reported on in FlyBoyz, and he has also been trying to get me to go flying with him in his RV. My lack of engagements with him are not due to a lack of desire, but rather due to an overwhelming amount of stuff to do and an ever decreasing amount of time to get it all done.
A few nights ago, after yet another email and invitation from Steve, I caved! LOL! On Saturday, he and another RV out of Chittenango, were meeting up and flying together to Kline Kill, NY for breakfast and to join in the EAA (Experimental Aircraft Association) Fly-In being held there. After breakfast, the two planes would fly back home together. Formation flying over Upstate New York! Who could resist that?! Everyone would be back home by noon after which Steve and I would most likely continue on with another sort of aircraft flying…control line planes at the STARS field!
A double mega-dose of aviation all in one day!
What follows in this post is a chronicle of the Kline Kill Fly-In portion of the day. The captions under the photos tell most of the story and are augmented by several videos at the end of the post. The control line portion of the days events will follow in a separate post.
While the captions and videos tell most of the story, here are some additional details related to our flights:
Round trip flight was 135 NM from Oswego County Airport (FZY) in Fulton, New York to Kline Kill Airport (NY1) in Ghent, New York.
Initial departure was at 9:30AM with arrival at 10:36AM
Average air speed was 175 MPH
Average flight altitude was 2,500 feet
Return departure was at 12:00PM with arrival at 1:15PM
Average air speed was 135 MPH
Average flight altitude was 8,700 feet
We flew below the clouds at 2,500 feet on the trip to Kline Kill and had a smooth ride. On the return trip, we flew over the clouds at 8,700 feet since the air below the clouds was pretty bumpy at this point.
On the return trip, once we topped the cloud cover, Steve gave me some stick time on his RV-9A which I greatly appreciated. I am happy to say that I returned the stick to him 20 minutes later with the plane still in a level wings, on course attitude!
Besides a great day of full scale flying, I learned several things on this flight:
Steve Dwyer is a very good pilot.
The RV-9A is a beautiful flying airplane.
Upstate New York is a beautiful place to witness from the air.
The Kline Kill Chapter of the EAA cooks up one heck of a good breakfast!
Here are photos and videos from the full scale portion of the days events:
(Click on photos to zoom in on them)
It was a very windy day which you can hear in the audio to this video. You can also see the side-slip in the Cessna after takeoff.
It was a very windy day which you can hear in the audio to this video.
This was my cockpit view of take off of Steve Dwyer's RV-9A from Kline Kill, NY EAA Fly-in. There was a bit of confusion during the takeoff between Steve and his fellow RV-7 pilot as to who was to take off first. Steve follows the RV-7 to the end of the runway and both prepare for takeoff while waiting on the other. The confusion was finally settled and Steve led the takeoff rolls. As a result of this delay, the video segment from 1:05 min. to 2:55 min. may be a bit boring! It was a very windy day and you may hear some comments from Steve about that during the takeoff.
This was my cockpit view of Steve Dwyer landing his RV-9A at Oswego County Airport, NY. The Airport is actually in Fulton, NY which is visible during parts of this video. It was VERY windy which caused a lot of bumpiness in this video and made for an interesting landing. Steve fought a strong cross-wind but made a very good landing! Steve also provided good comments during this landing which you can hear in the video.