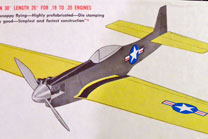 In my last Build Report, I was able to say that the Mustang was off to a fast start. Now, three weeks later, I'm able to report…some progress! In between family events, snow blowing the driveway, and the S.T.A.R.S. Snow Fly, I have spent a fair amount of time sanding. Sanding the fuselage to shape, sanding the tail feathers to shape, and sanding the wing and flaps to shape. Oh, and did I mention that sanding is one of my least favorite parts of model plane building? But it can be rewarding when you see a rough, raw, balsa or hardwood component take on a smooth, aerodynamic shape as all the parts start to blend together through the act of sanding. Still, sanding is tedious and boring!
But the majority of the sanding is now done and along with it the wing has been completed. Besides a nice aerodynamic shape, the wing now sports working flaps as well as a working bell crank and lead out wire assembly to operate those flaps and the rear elevator. I've also done a bit more work on the fuselage and rudder as well as building and hinging the elevator and horizontal stabilizer assembly together.
All the airframe components are now ready for covering. I will be covering the plane in the traditional method…dope and silkspan. But before I apply any colored dope to the plane, I still need a 'wild and crazy' color scheme that will draw attention to the plane and control line flying. Let me know your suggestions for a color scheme by adding a comment to this post!
Here are a few photos of the plane assembly as it currently stands:
(Click on the photos to get a larger image with higher resolution)
Bell crank assembly before sheeting top of wing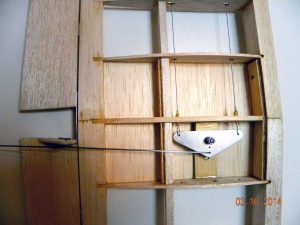 Completed wing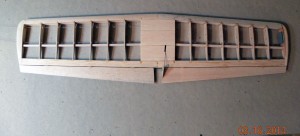 Plane components ready for covering and assembly