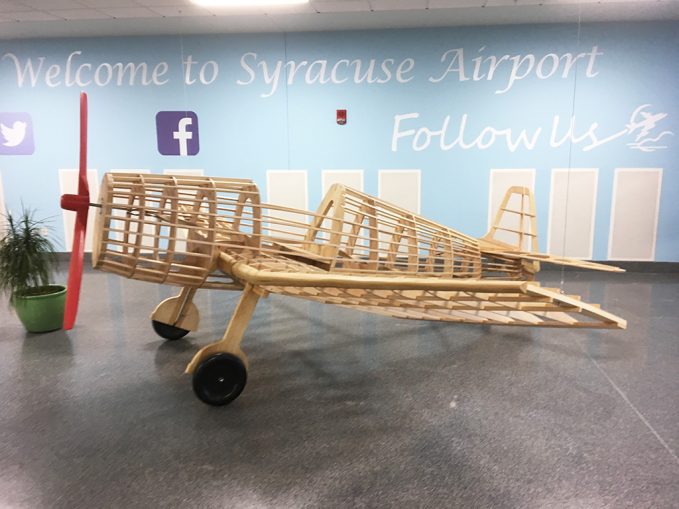 I was at Syracuse's Hancock Airport the other night and came upon a very cool 'sculpture'. It was a sculpture of a 'Stick & Tissue' model airplane! Specifically, it was based on a Guillow's Grumman F6F Hellcat. And for me, it especially made me smile as awhile ago, I 'inherited' a partially completed model of this exact kit!
Nearby, there was a sign describing the sculpture. Here is what the sign had to say:
Mock Two
Mock Two is the second in an ongoing series of large scale sculptures. These sculptures are designed to look like model airplanes — wood framed, rubber band powered, plastic red propeller — only at an adult scale. The scale allows viewers, young and old, to imagine themselves winding its propeller, sitting in it, and taking flight.
Mock Two is modeled after a kit airplane of a World War II Grumman F6F Hellcat. It is made almost entirely of basswood. The artist writes, "My goal with this work was to create an object that is both nostalgic and playful. As a child, I enjoyed playing with model airplanes. I remember watching them zoom through the air and wishing I was in them. With this piece, I wanted viewers to imagine that a crazed individual built this plane to live out a childhood fantasy and to imagine themselves flying in it."
Enjoy your flight.
…
Mock Two was created by the artist Benjamin Entner and commissioned by the Syracuse Hancock International Airport in 2014. Thomas Pickett was the artist's assistant.
So, I think it would be a fair description to call many of us modelers 'crazed individuals'! Here are a few photos of the sculpture as well as a photo of the actual model kit I 'inherited'.
(Click on photos to zoom in on them)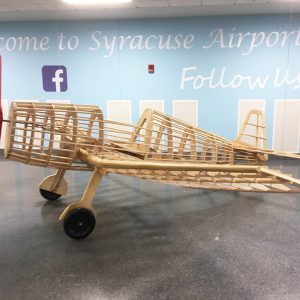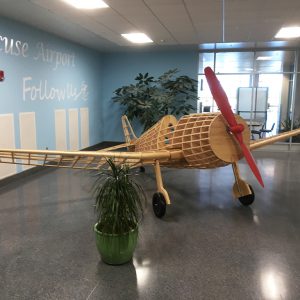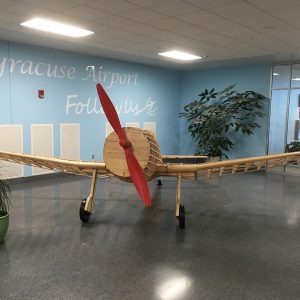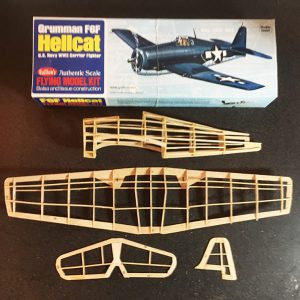 At this point, I am wondering if the airport will let me 'borrow' their sculpture next month to bring to the FAC (Flying Aces Club) NAT's competition in Geneseo! With all the stick & tissue experts there, we could probably get the plane covered (tissue or silk span??) in no time and give it a test flight! I do think it would take more than one person to wind that prop and rubber band!