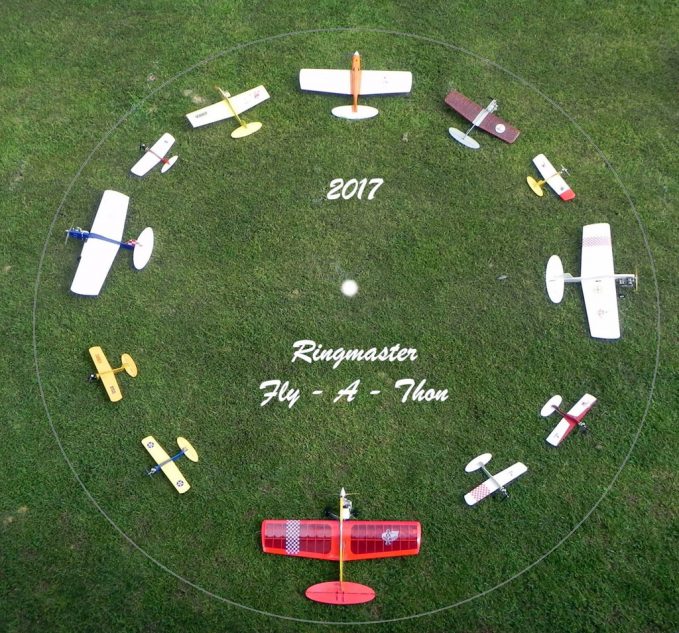 On Saturday, October 7, control line flyers are welcome to converge at the STARS (Syracuse Thunderbirds Aero Radio Society) flying field to help celebrate the 10th Annual Worldwide Ringmaster Fly-A-Thon sponsored by the 'Brotherhood of the Ring'. The goal is to have as many pilots as possible record as many Ringmaster flights as possible in order to help contribute to this worldwide event. With that said, the real goal is to have as much fun as possible flying Ringmaster planes with other like-minded flyers!
I have attached a flyer with all the information needed for anyone to participate in this event no matter where in the world you live. We are trying to set another world record for number of flights so please consider joining in!
And if you live anywhere within driving range of Syracuse, New York, we'd love to have you join us on October 7. If interested, let me know and I can provide additional details. I can be contacted through this link: Contact
(Click on graphic to zoom in for details)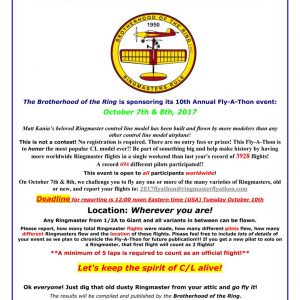 So dig out your Ringmaster, grab a can of fuel, and enjoy flying as part of the 10th Annual Worldwide Ringmaster Fly-A-Thon!
---
Special Note: There has been talk on some of the online forums that due to the weather events in Texas and Florida that the 2017 Ringmaster Fly-A-Thon has been canceled because of flooding and general destruction. THAT IS NOT TRUE!! THE FLY-A-THON IS HAPPENING AS SCHEDULED OCTOBER 7th & 8th!
John Cralley from 'The Brotherhood of the Ring' replied to this rumor:
"Although we have sympathy for our fellow Control Line fliers in Texas & Florida this is a Worldwide event and will be held as scheduled. Let us all put up some extra flights in honor of our friends that can't fly with us!
The "ringmaster round up" is what's cancelled guys. It's a ringmaster only stunt contest. They coincide with the fly-a-thon on purpose. That way every stunt pattern and practice flight counts as 1 towards the overall number. It's actually very fun and held at Scobee field. Scobee field is a wonderful flying site in Houston, TX but is low elevation and subject to flooding. It was flooded from hurricane Harvey and so the Ringmaster Roundup has been canceled. It is a great stunt contest and we will miss the large number of flights that it contributed to the Ringmaster Fly-A-Thon!"