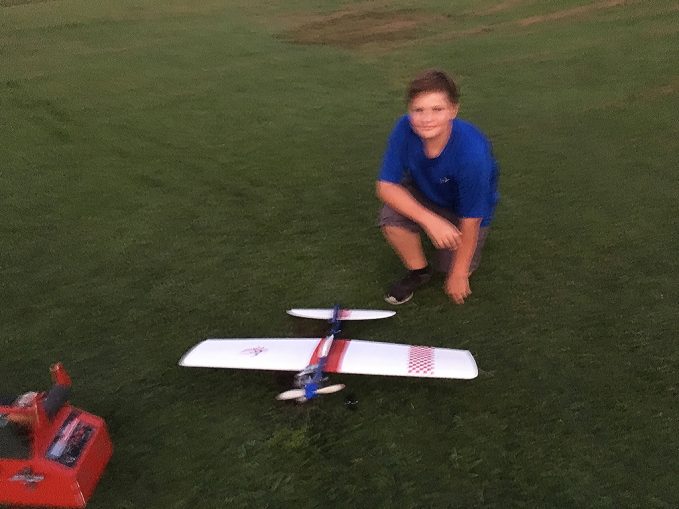 During last months STARS 2017 Model Air Show, I invited Nathan Knapp (12) and his younger brother to fly my Ringmaster control line plane. Nathan and his father, Phil, fly R/C planes at the STARS. Nathan has become an accomplished R/C pilot and I wanted him to see what control line flying was all about. At the time, Nathan politely declined the offer. I told him that whenever he was at the field at the same time as I was, he was welcome to try my Ringmaster. Last Sunday he did just that.
It was late in the day and the sun was setting when I arrived at the STARS field with my wife and sister-in-law. My intention was to fly a couple demo flights for my sister-in-law. When we arrived, Nathan was at the field flying with his dad. Shortly after my first flight, Nathan approached me and asked if he could try to fly my plane. Of Course He Could!
After a brief tutorial on how to control the plane, and with fellow STARS member, Michael Graham, performing launch duties, the plane was launched with Nathan and myself on the handle.
I talked Nathan thru the flight while my wife recorded the event. Nathan did great! The highlight for me was about half way through the flight when Nathan said to me "I can feel the plane!". And that is what control line flying is all about! Nathan took to the controls very quickly and even did a brief solo stint before handing the controls back to me. Just before the end of the flight, we even worked him through his first loop! Then we nailed a great landing together!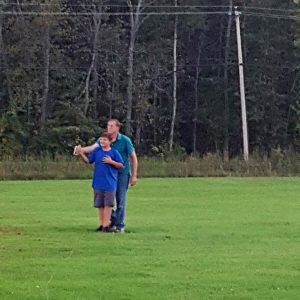 Phil had watched much of this activity off on the sidelines and seemed very pleased with his son's efforts. Afterwards, Nathan came back up to me and said that his father told him that they now needed to get Nathan one of 'these planes'. Mission accomplished! And Nathan is welcome to share the lines with me anytime we're at the field together.
Here is some video of Nathan's maiden control line flight.
P.S. Please excuse the poor photography and video in this post. It was getting dark out when all this activity occurred and that made for some poor photography.