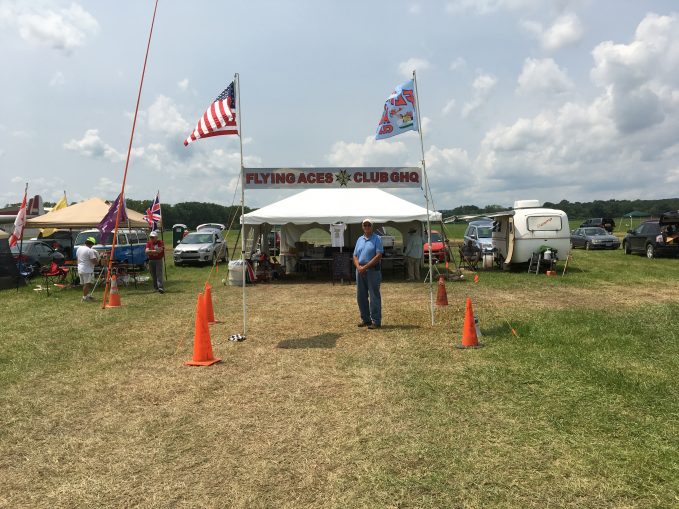 In an effort to expand the model aviation horizons of my control line flying buddy, Steve Dwyer, I invited him along with me Friday to Genesseo, New York to spend the day watching some of the events being held by the Flying Aces Club (FAC) at their 2017 Non-NATS competition. Given that his other option for the day was projects around the house, Steve was game and made the trek with me to Genesseo. Steve is a model builder at heart and model building is at the heart of the FAC. I was hoping that Steve would connect with what he saw in Genesseo.
We arrived at the flying field just in time to witness the first major event of the day, the WWI Combat Mass Launch. The flying conditions were great (maybe a bit humid) and they made for some great flight times. By the time the three rounds of competition had determined a victor for the event, Steve was showing some genuine interest. At that point, we retired to a quiet section of the field and I pulled out my two feeble attempts at building a stick and tissue free flight model, my Kharkov and Junior Commercial. Both planes were a bit banged up from previous attempts to trim them but they were ready to be thrown into the air for more trimming. With Steve acting as my mechanic, in between bites on his lunch sandwich, I managed to add further damage to both planes to the point where I rendered them unflight-worthy pending more repair time in the hanger. My longest flight time was 18 seconds with the Junior Commercial. Steve could see that there was more to this stick and tissue thing than just building planes. Trimming, and knowing how to trim, were key components to successful flights. And he could see that I had a long way to go before I could claim any success at this flying thing!
After watching me prove that I was a total nubie at this free flight stuff, we went back to walking the flight line in order to see how some of the experts did things. In the course of our meanderings, we were greeted by Chris McGovern who recognized us for the nubies we were and invited us to act as mechanics for him and his friend. Chris was very patient and gracious in answering the many questions that I had about trimming planes and I want to thank him for his warm hospitality and generous help! Chris was flying one of his planes in the Thompson Race Mass Launch event and invited me to be his mechanic for the event. I was more than happy to help.
After watching Tom Hallman literally fly away to win the Thompson Race, Steve and I took one more stroll up the flight line before departing for the day. During this stroll, we came upon an absolutely beautiful P-47 model that was being prepped for flight. We then watched as it was launched on what was probably the best flight we saw all day. The P-47 rose in a smooth steady manner to altitude and then proceeded to fly the entire distance of the flying field in what was nothing less than a truly majestic flight. Seeing the quality build of this plane coupled with the beautiful flight performance it put on was an awesome way to cap Steve's first visit to an FAC event.
By the time we left Genesseo, Steve had witnessed flights that lasted only a couple of seconds as well as those that maxed out with over 120 seconds in the air. He was impressed by the techniques used to wind the motors as well as the durability of the delicate planes. But most of all he witnessed some expert builders and flyers and their beautiful handcrafted planes that flew to soaring heights. On the drive home from Genesseo, Steve agreed to accept a stick and tissue free flight model from me and said he will give the building of it a try. There may be some hope for this old control line guy after all!
The following video documents some of the events, planes, and pilots that we saw while in Genesseo. Enjoy!!