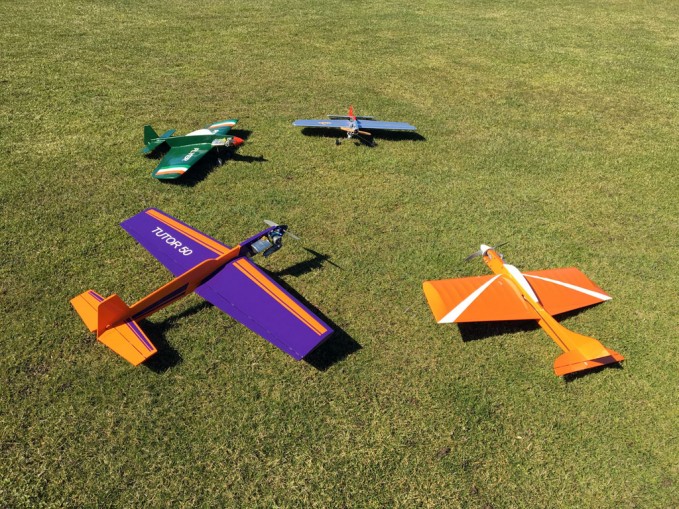 At 2:00pm, it was a beautifully bright and sunny day. But it was also 33 Degrees with winds variable from 7-15mph giving a wind chill of 25 degrees. A bit frigid and breezy for flying control line planes but my flying buddy Steve Dwyer was anxious to put some of his new planes thru their paces.
Over the winter months, Steve had restored an old Sterling Mustang which he dubbed the 'Ryan Flyer' in honor of the gentleman who had originally built the plane some 55 years ago. He had made a small modification to the plane with the addition of some stationary wing flaps in order to increase the wing surface area. A variety of other minor tweaks were also done in an effort to improve the flight performance of the plane.
Steve had also built a beautiful Tutor 50 which was a version of the Tutor that he had sized up to a 50″ wingspan. This plane is the biggest one that he has built and flown to date and he powered it with a new Evolution .36. The plane looks beautiful in the purple and orange color scheme he applied to it.
Steve had also brought along his Flite Streak which had already made some initial flights prior to today's flying session.
As for me, I brought along my Super Clown but ultimately, I decided not to fly it as the wind was proving too strong for a smaller, lighter plane like the Clown to be able to adequately handle.
The flight session went well despite the wind and cold being a factor. Steve did manage an unplanned inverted landing with the Flite Streak but due to the soft, soggy ground conditions, the only damage suffered was to the prop…and Steve's ego!
The Tutor 50 was a joy to watch. Large and powerful, it handled the breezes and wind gusts with no issue and Steve was able to put it thru some of it's paces. It responded beautifully as can be seen in the below flight video. And Steve absolutely nailed the landing (right side up!). It was one of the best Control Line landings that I'ver ever seen. I look forward to watching a lot more great flights from this plane.
It was good to be back out on the flying field and with Spring still a full day away, we were able to really get an early start on the flying season this year!
Below are a series of photos and videos of todays flight session, which did end sooner than hoped due to the cold and wind. The wind is very audible in the videos. Enjoy!
(Click on photos to zoom in on them)