Here it is December 6th. and we've still had no measurable snow in the Syracuse area…amazing! So today, with no snow, no wind, and temp's in the lower 40's, the opportunity for one last round of control line flying was not to be wasted. When I left my house at 9:30 this morning, there was some fog which increased as I travelled the north shore of Oneida Lake to Steve Dwyers house, but by the time we headed out to his secret, undisclosed flying field, there was none left. We had some very nice hazy sunshine for our two hour flying session.
I recently realized that I had never yet had a chance to try out the launch stooge that I built and published a FlyBoyz post about earlier this year. So my main goal of the day was to test it out. I would like to report that it performed flawlessly! It holds the plane very securely while I'm starting it and then walking out to the center of the flight circle. Then, with a gentle pull on the release handle, it launches the plane smoothly and without issue. It is really great knowing that I now have the freedom to fly when no one is around to help with the launch duties.
I managed to get in three flights today with the Brodak Super Clown all of which utilized the launch stooge. Here is a brief video of the launch of the last of these three flights:
My flying buddy, FlyBoy Steve Dwyer, managed to get in three flights of a scratch built Flite Streak that he recently completed. The build of this plane represented several firsts for Steve in his building career. He used Monokote instead of silk and dope, used a carbon fiber push rod vs. wire, and used a wing tip weight box vs. fixed weight. Steve also powered the plane with a vintage Fox .35 instead of one of the McCoy's he typically utilizes. All worked out very nicely. Steve reported that the build took approximately 6 weeks, approximately 50 hours of build time, and the enjoyment level was "extremely high". Here is a photo of the plane after it was first completed:
(Click on photos to zoom in on them)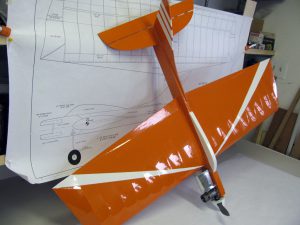 Steve has flown the plane on a couple of occasions and used those opportunities to work out some bugs and do some flight trimming. Today was his first flight session with all the tweaks completed and the plane flew wonderfully. Steve feels that this is the best performing plane he has built and flown to date.
Here is a brief video of a portion of one of his flights today:
2015 turned out to have been a great flying season with much progress being made on improving both model building and flying skills. With today's flying session ending on a very successful note, Steve and I are most likely heading indoors for the winter building months. Steve gave me the following list of planes he plans to build over the course of the next several months…very ambitious to say the least!
Steve's Building Schedule: November 2015 – May 2016:
Flite Streak Modified:* span 42″, wing area 390 sq in (flapless), power Fox .35 with a 10 x 6 prop
Status – scratch built completed and flown 11/24/15.
Tutor One Modified: span 50", wing area 520 sq in (flapped), power Evolution .36 with a 11 x 4 prop.
Status – Kit has arrived beginning construction 12/15.
Primary Force: span 50.8", wing area 500 sq in (flapless), power OS LA .40 with a 11 x 4 prop.
Status – Kit ordered due to arrive wk 1 Dec.
Fancherized Twister: span 49", wing area 510 sq in (flapped), power K & B .40 with a 11 x 4 prop.
Status – Planning to buy Sig kit and make Tom Fancher design changes.
Pathfinder: span 55", wing area 620 sq in (flapped) power OS LA .46 with a 11 x 6 prop.
Status – Planning to modify as scratch built tail dragger, ordering plans from Brodak.
* Completed
Note, all of the above are profiles.
As for me, I also have more than my fair share of planes to build, finish, or repair. But before I can do anything with any of them, I still need to get myself a workable building workshop. And (some!) progress has been made on that. It will be the subject of my next FlyBoyz post. Stay tuned!