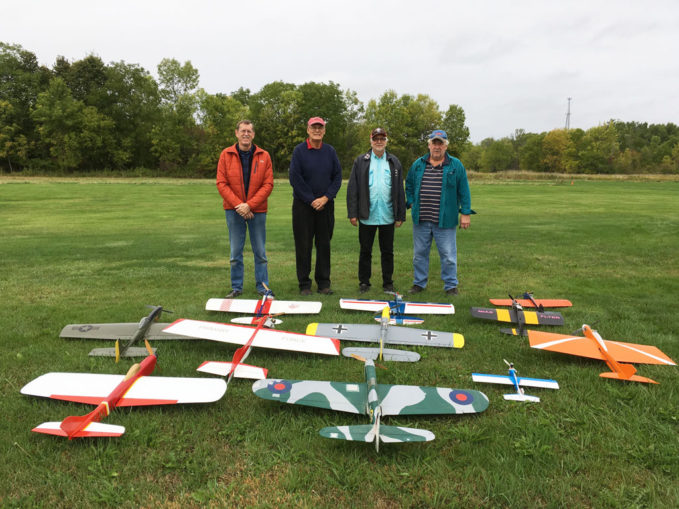 With 11 planes, including 2 Ringmasters, in the back of the Traverse, FlyBoyz flying buddy, Steve Dwyer and I headed out early this morning from Syracuse for the RAMS (Rochester Aero Modeling Society) flying field east of Rochester, NY. We were headed out to meet a couple other flyers who were gathering to participate with us in the 2016 Ringmaster Fly-A-Thon. As we headed out, the weather was a concern as it was a bit dicey, overcast with a threat of showers, a bit breezy at times, and temps around 60 degrees. but fortunately it held throughout our entire flying session.
Once at the field, Steve and I met up fellow control liners Chuck Smith and George Eckhardt. George was already getting his Ringmaster airborne as we arrived. Over the next 5 hours, with just a short break for burgers and dogs cooked on the RAMS gas grill, the four of us managed to keep a constant flow of planes airborne. The goal was to fly Ringmasters, which we did, but we also used the opportunity to fly many of our other planes. Highlights of these flight sessions included Steve impressing everyone, including some RC flyers who were present, with his Primary Force…an awesome flying plane. At the other end of the spectrum, I managed one flight of my Cox .049 powered 'Lil' Wizard'. I flew it on 52′ braided steel lines and the plane did it's best to pull those lines airborne. I'll be buying 35′ lines for future flights! And Chuck impressed us all with his skills at landing his Ringmaster inverted with no damage to the plane. A feat which he accomplished three times due to his Fox .35 shutting down when he took the plane inverted.
By the end of the flying session, the four of us had added 11 Ringmaster flights to the log sheet. These results will be sent in to the 'Brotherhood of the Ring' website to be tallied with the hundreds of other pilots and thousands of Ringmaster flights being recorded around the world this weekend. What follows are several photos from todays successful Fly-A-Thon.
(Click on photos to zoom in on them)
Besides flying Ringmasters, I had hoped to do a maiden flight today of the VECO Hurricane that I recently 'inherited' from another flyer. I had patched up the holes in the plane and done other things to prepare it for a first flight. However, it was not to be. The 40+ year-old fuel tank that I had (temporarily) placed in the plane, turned out to be defective and the flight had to be scrubbed. I'll be ordering a brand new fuel tank with hopes of getting the plane airborne for the first time in the next week or so before the weather starts turning winter-like. More on this in a future post.
We all had a great day of flying today and did our best to add a bit to the international tally of Ringmaster flights for the 2016 Fly-A-Thon. Next year, I am hoping to host our local edition of the 2017 Ringmaster Fly-A-Thon at my 'home' flying field, the STARS (Syracuse Thunderbirds Aero Radio Society) flying field in Syracuse, NY. I'm already looking forward to it!