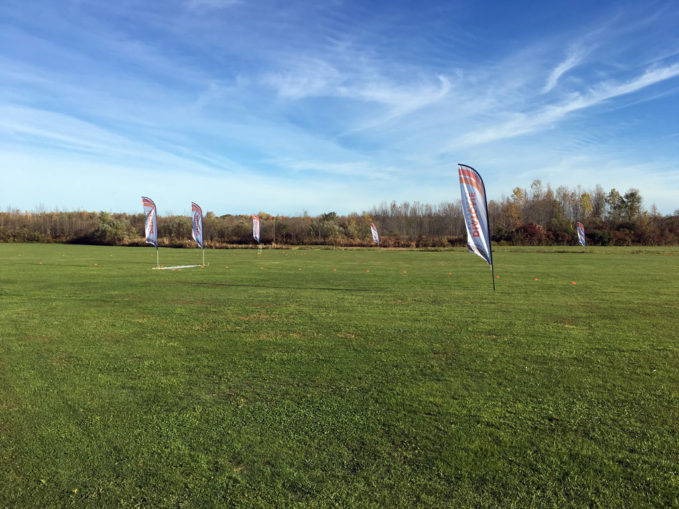 Recently, the Syracuse Thunderbirds Aero Radio Society (STARS) hosted a first ever STARS event – FPV Drone Racing!
While FPV and 'Drones' (multi-rotors) are not really my 'thing', I am always willing to explore new areas of aviation that I am not too awfully familiar with. And one thing that I don't have a whole lot of experience with is FPV drone racing. So, I decided to check out this first ever event at the STARS field. Unfortunately, my schedule on this particular day did not allow me to spend much time at the actual event. I was able snap a few photos and watch a couple drones fly the course, but I had to leave before any actual racing began. However, I was able to get an Event Report on the actual racing from Paul Volcko who is a STARS Vice President and who was largely responsible for bringing this event to the STARS field. So, without further ado, here is Paul's FlyBoyz Guest Post.
---
FPV RACE FOR THE STARS
This past Saturday, October 15, we hosted our first FPV drone race and I'm glad to report it was a success! We had 9 pilots flying throughout the day, a sizable crowd of spectators, and the weather was great. From our club we had three pilots flying: young Daniel Nans, Ed Williams, and myself.
We had a bit of a slow start to the day, but we ended up running three rounds with two heats per round. The top five finishers in those rounds flew a final race to determine the winner. The winner was all but assured as he was destroying the rest of the field throughout the day, Mark Ristango. John Stupp and Warren Brown were running neck and neck throughout the day and they ended up rounding out the top three spots. Joe Chovan came in fourth and yours truly brought up the rear with an exciting 5th place finish, complete with my quad flying into a finish line flag, snapping the flagpole in half. The quad was completely undamaged.
Before people started clearing out, the pilot raffle prize, an Ares 7" LCD Montior with built-in 32ch receiver, donated by Bruce Throne and Walt's Hobbytown, was won by Adam Atherton! A very nice consolation prize.
Big thanks to Herb Baum for manning the grill at lunch time; Phil Morgan for handling Emcee duties, getting us our event sanction, and managing pilot registration; and to those that helped setup and tear down the course.
And thank you to the club for supporting the event by hosting it!
FPV quad racing is a new aspect of the hobby, not unlike pylon racing and other speed/time competitions that have been popular at one time or another. The "drone" aspect is off-putting to some, and I understand that.  Like you, I too am quite displeased with the attention our hobby has received from regulators in recent years as a direct result of the negative attention the practically self-flying variety of the devices and their unsafe, untrained pilots bring our way. But Pandora's Box is opened and we need to be proactive not only on the government lobbying front, but also as a club in our own community. To that end, the best way to directly limit the public relations damage and get back to being left (mostly) alone is going to be found by being open to those interested in flying "drones" and using FPV technology, encouraging them to become members of clubs and use safe facilities like ours, and to fly responsibly. And we do have some things to gain. Most notably, we could use an injection of the enthusiasm, engagement, and excitement that this group of relatively young people bring to the hobby.
I'm glad the event was a success in terms of participation and attendance, but I think more importantly it provided a positive exposition of the technology and those that fly it.
Finally, I'd like to pass along John Stupp's and Mark Ristango's thanks to our club for hosting the event. Both of them organize these races for the CNY FPV Racing chapter of the MultiGP drone racing league. While I served as the in-club liaison and event coordinator, they deserve a great deal of credit for course layout, providing flags and materials, and managing the logistics of the racing itself.
Sincerely,
Paul Volcko
---
What follows are several photos from the event.
(Click on photos to zoom in on them)
The race results have been posted to the MultiGP Drone Racing website. You can find the results, as well as other FPV racing club related information here: Race For The Stars
My guess is that we may be looking at more FPV racing at the STARS in the future!