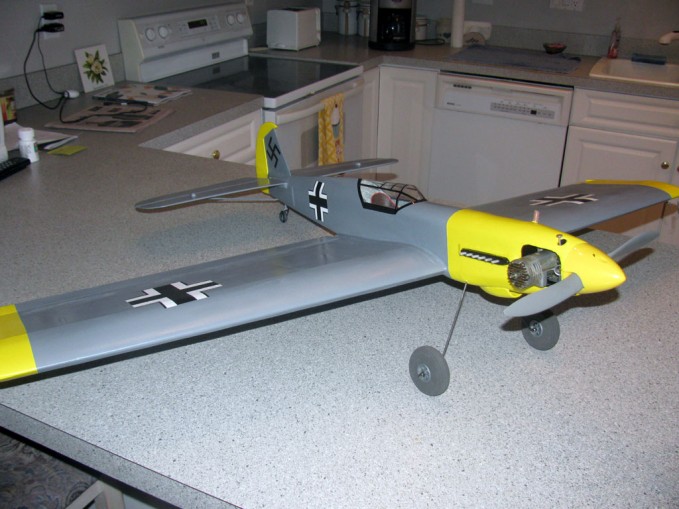 While he waits on me to get any sort of a plane into a flyable condition, my control line flying buddy, FlyBoy Steve Dwyer has been keeping me up to date on his model flying exploits over the past many weeks. Last month, Steve met me at the STARS flying field with his restored ME 109 and that flight session was reported on here in FlyBoyz. During that flight session, Steve encountered problems with the Fox .35 he had installed in the 109, so he went back to the hanger and swapped out the Fox for a McCoy .35 only to encounter problems keeping it running…just like the Fox. He finally got to the root cause of the engine issues and made the needed correction. With the plane finally ready for flight, he ventured out for the maiden flight of the restored plane.
With his usual style, and flair for dramatic humor, here now is Steve's latest flight report. And it ain't pretty! Enjoy and be sure to leave any comments or questions you may have.
(Click on photos to zoom in on them)
---
ME109 Maiden Flight Report
I discovered the issue with the ME 109 – fuel starvation. The feed line out of the tank was partially restricted allowing almost no flow. I tried an almost new and recently bench run McCoy .35 and couldn't keep it running in the ME just like we experienced with the Fox. I cleared the tank line and now have good fuel flow. On previous flight attempts, I did notice the ME handled very nice for the brief moment it was in the air. It's now ready for a full power maiden flight. Adolf is now antsy for sure!
With much anxiety because of forecasted windy weather this coming Monday, Adolf gave the command for all ME 109 pilots to be airborne at 1900 hundred hours this evening. The weather was calm with excellent visibility. All pilots took off without incident and headed west for the coast, tonight was to be a reconnaissance run and if anyone encountered a pesky Mustang, well you know the rest.
The Cleveland flying field was closely mowed and conditions were excellent aside for a stray occasional mosquito. First ship up was the Big Red Super Clown. Big Red was restored recently from an incident in Chittenango. Epoxy and Bass Wood doublers have taken their toll in undesirable weight and loss of control performance. Loops have become very large and dive recovery has fallen considerably. Still, Big Red is fun and forgiving. Big Black, now a lighter airplane, out performs Big Red and has slipped to the number one stunt profile in the hanger.
After taking Big Red thru it's paces it was time for the ME 109. Having discovered and corrected a tank outlet restriction and reducing the counter weight due to a heavy outboard wing, along with replacing the aged Fox .35 with a fresh McCoy .35, I was unable to hold back any longer. Upon release, the ME climbed to altitude without effort and quickly accelerated to cruise. Small control inputs showed excellent response and after a dozen laps I set up for a loop. The loop was extremely tight. After several more, I decided to invert the plane and climbed into an inside loop adding slight down control for inverted flight at the 12 o'clock position. I want to say the large wing area and weight to power enabled the plane to perform better than anything I experienced before. Exiting the inside loop in an inverted position and applying down control did not bring the plane up but continued to dive toward the ground at less than a 45 degree angle. Most damage occurred to the nose breaking the fuse behind the motor and ahead of the tank, the top of the rudder was snapped off but otherwise no visible damage. Trying the control lead outs, I discovered more than normal up elevator and no down elevator, the elevator would not drop below neutral. I was flying with no down control. Pulling the lead outs repeatedly, I noticed next that I could get full down and little up elevator. It seems the bell crank has moved chord wise within the wing. I suspect forces were greater than the aged 50 year old  balsa ribs could handle. I also noted the hardwood engine mounts broke in front of the tank bulkhead. They appeared to have been made from a red wood material (no idea where I found red wood) and were rotted from years of oil. It is repairable and I will have it flying again. It fly's just too great not to bring it back. Another winter project.
Adolf exited his inverted ME 109 crawling from beneath the partially opened canopy. It wasn't pretty. Upon returning and leading his flight wing back home, he experienced control problems while performing a barrel roll just over the field. Because of his flying experience and cool nature he was fortunate to execute an inverted stall using elevator trim which allowed the ship to land inverted stopping directly in front of the command hanger. Realizing his life and flawless reputation had hung on a mechanical problem, he wanted answers. Drawing his Lugar side arm, he began yelling for his mechanic to come forward. Running into the maintenance hanger he found his trusted mechanic of over 4 years. A shot was heard and Adolf walked quietly to the pilots lounge to drink a few steins and call his beloved friend, Gunther Weis.