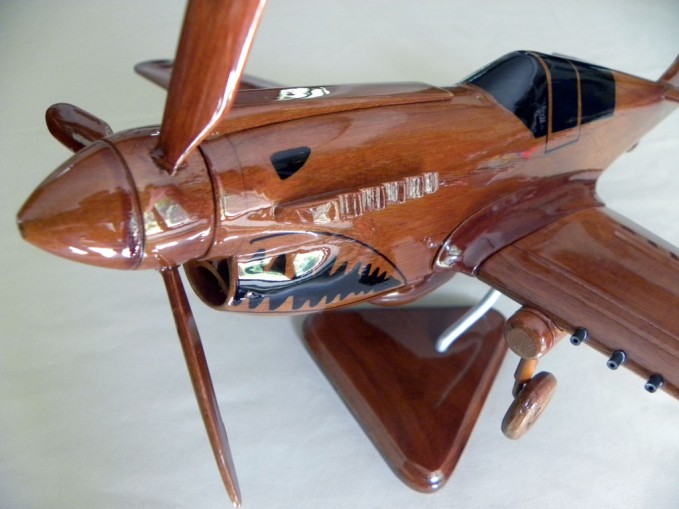 I am usually a very frugal guy and that especially applies to making impulse purchases…I rarely make them. However, there are times when I recognize that the moment is right and may not present itself again, and so what starts out as an impulse purchase becomes an opportunity to take advantage of a situation that may not present itself again. As I get older, I find myself giving in to these situations a bit more often due to the philosophy that I am not getting any younger and it is either now or never. And I find that these situations especially present themselves when aviation is involved.
Last week, my wife and I paid our annual obligatory visit to the Great New York State Fair (which really is a great State Fair!). While wandering the many buildings filled with various vendors hawking everything from alligator boots to New York Maple Syrup, I happened upon a vendor that very much caught my interest. I had seen this vendor once before at a large model train show and resisted the impulse to buy at that time. But this time around, I succumbed. The truth be told, I did resist the impulse to make a purchase upon my first visit to this vendor, however, our path took us by them again and this time I gave in. And what was it that drew me in? Hand carved mahogany model airplanes!
(Click on photos to zoom in on them)
This vendor sells model planes, as well as some trains, boats, and cars, that are made of solid mahogany finished with 6-8 coats of lacquer and they are beautiful! According to Wade Wheeler, who gave me the story of these models, the company that makes the models was started by a Viet Nam veteran who eventually returned to Viet Nam after the war was over in an effort to make his models. The models are made in Viet Nam and imported to the USA where they are sold thru various vendors. The vendors I met at the State Fair are actually wholesalers of the models. Wade indicated that the veteran who runs the manufacturing company is looking to retire in the next year and the on-going status of the manufacturing operation is up in the air.
When I first stopped by the booth, I immediately saw my #2 most favorite plane, the P-40 Warhawk. I inquired about my #1 plane, the Superrmarine Spitfire but was told they had already sold out their show supply of them. So, ultimately, I purchased the P-40.
The plane comes in several pieces with the wings attaching to the body as well as the prop/spinner assembly. The base and metal support rod are also separately attached. Everything went together without issue and the model is rock solid. This P-40 has an 18″ wingspan, is 16″ in length, and weighs several pounds (my model scale is still packed from our recent move so I don't have an exact weight). And the finish on this model is flawless! Here are a couple photos of the P-40: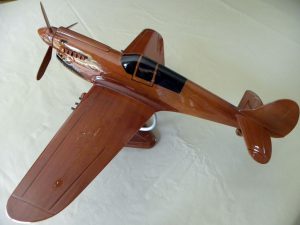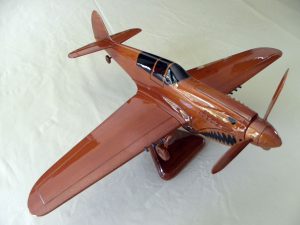 Given that this is a non-flying model, I have the P-40 displayed on top of my computer desk hutch and I have already received several comments as to how nice it looks. Now I just need a Spitfire and I'll have matching 'bookends'!
Wade indicated that anyone looking to purchase any of the models they distribute can select from several vendors who sell the models on eBay. Search on 'Mahogany Wood Models' and you should get several vendor hits. As for me, I'm hoping that I can snag a Spitfire at the Springfield Model Train Show this January as the show price of these models is significantly lower than the online eBay price.
See, there I go being frugal again!