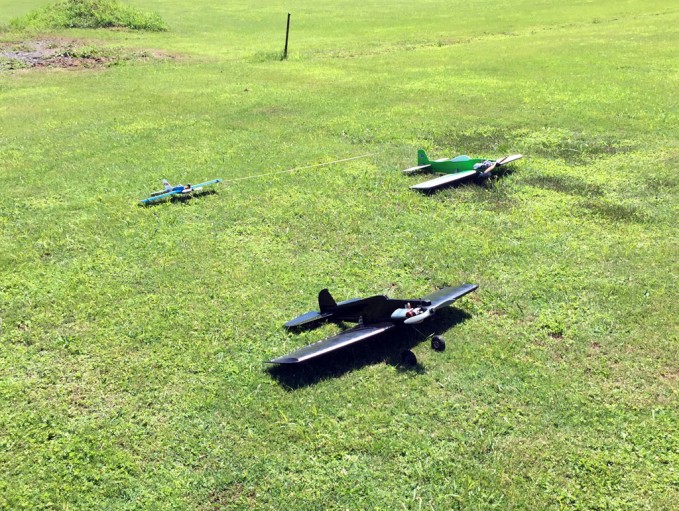 This past weekend, after too long an absence from aviation related activities, I finally managed to get away from house moving chores and returned to doing something with wings!
On Sunday, my long-time friend, FlyBoy Rick Houtz, joined me and FlyBoy Steve Dwyer at the STARS control line field for 3 solid hours of control line flying.
Steve had his two work horse planes, Big Black and Big Red with him and he put them both to work on Sunday. Throughout the several months that I've been pre-occupied with house move related activities, Steve has been updating me with frequent reports of his control line flight activities with particular focus on advancing his stunting skills. His progress was very evident in his flying on Sunday. The last time I saw Steve fly it was wingovers and loops. What I witnessed this time out was a full regiment of inverted flight, figure eights, and outside loops. Steve's flight practice over the spring and summer has certainly paid off in advancing his flight skills.
After watching us fly a few flights, Rick was convinced to give the flight circle a try after a 50+ year resting period from making a few circles with a plane as a young teenager. Rick first went airborne with my Cox .049 powered Lil' Wizard and had a very successful first flight.
A little later, I talked him into giving my Mustang a try. With an OS .25 and full flaps, flying the Mustang would be a much different experience for Rick. We short fueled the engine to limit the flight to about 5 minutes so as to avoid having Rick get too dizzy during an extended flight. I am happy to report that the Mustang survived! Rick successfully navigated the full flight with the Mustang and even achieved a respectable landing!
As for me, my main goal of the day was to get the engine on my Mustang to run correctly. Earlier this flying season, the flights with the Mustang had been plagued with bad engine performance. Steve and I finally narrowed the issue down to old, bad fuel. With new fuel in hand, the engine started much easier. The first flight was short-lived due to a bad needle valve setting. It was also decided to add a line to fully pressurize the fuel tank. With these adjustments made, the resulting flights were a real enjoyment with a very strong, smooth running engine. And the Mustang itself is now proving to be a very responsive and smooth flying plane. It is now time for me to focus on improving my flight skills instead of spending time trying to get the engine and plane running correctly.
The only casualty of the day was to the cylinder head of the vintage McCoy .35 Redhead engine that Steve was flying on Big Red. The cylinder head burned out but has since been replaced. Other than that, there was not even a chipped prop or bent tail wheel resulting from all the flying we did. So, with great flying weather, good friends to fly with, and 3 hours of successful flying, it was a great flying session. It is good to be back in the cockpit!