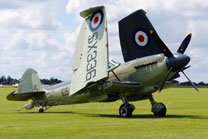 The Supermarine Seafire was a  naval version of the Supermarine Spitfire adapted for operation from aircraft carriers. The name Seafire was arrived at by abbreviating the longer name Sea Spitfire.
As a sibling to the Spitfire, the Seafire is tied for #1 on my all time favorite planes list!
The plane in this video is beautiful and the restoration work done on it is fantastic!