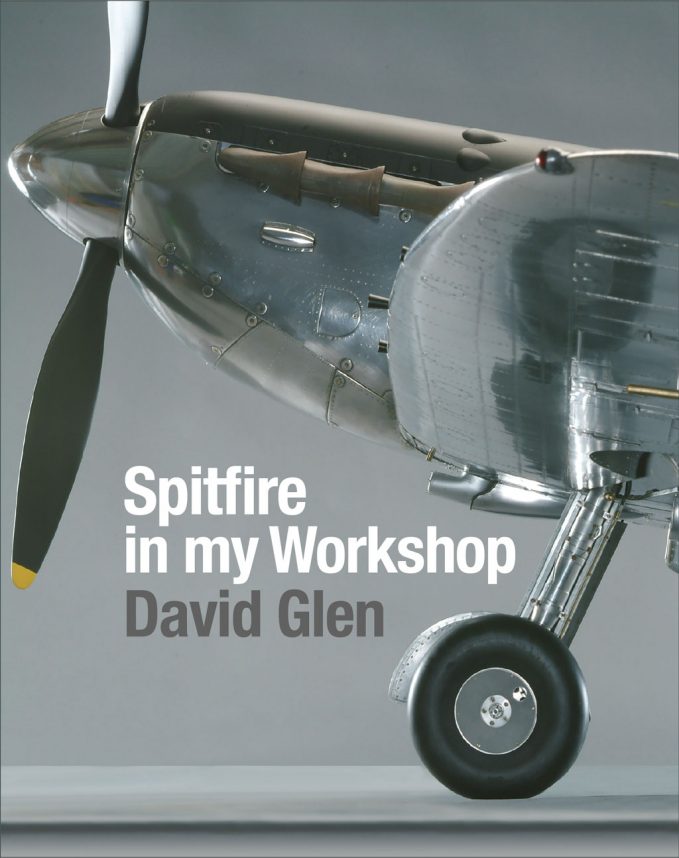 As I've mentioned many times here in FlyBoyz, my favorite aspect of the model plane hobby is building model planes. And, I've also mentioned several times that my favorite airplane is the Spitfire. Another love of mine, which I've never mentioned here in FlyBoyz, is books. I have a fairly decent sized book library and my favorites are the large, high quality 'coffee table' type books. Recently, I purchased a book that combines all three of these favorites under one book cover. 'Spitfire in my Workshop' by David Glen, is a beautiful, high quality, coffee table style book that is nothing short of a tour-de-force presentation of what has to be the premier model Spitfire ever built!
David Glen is an English Master Modeler who has built the ultimate Spitfire model ever. The book, which was written by the modeler himself, is a detailed and step-by-step account of the construction of a museum model masterpiece.
To quote an extract from the press release about this book it is 'A book to inspire, encourage and empower any enthusiastic model maker to build a masterpiece. The story of this breathtaking model of the world's most iconic aircraft, written by the man who built it.'
I found this extract to not be just a bit of press release hyperbole. I have spent many hours pouring over the photos and construction descriptions in this book. And every time I look at a picture, I see detail that I missed during my previous views of the same picture. I am totally amazed and blown away by the detail on this model.
I hope to learn how to improve my modeling skills by reviewing this book but I know that I personally will never reach the level of craftsmanship reached by David Glen. And I'm OK with that. Especially when it took David 11 years to complete this model. He didn't keep track of how many hours he committed to the Spitfire from beginning to end, but I'm sure it was in the thousands. I don't have that many hours (or years) available for modeling just one plane, so I'm content to pick up bits and pieces from what David presents in the book to apply to my modeling. Even those little bits and pieces will raise my personal level of modeling to a new level.
The format of the book is that each chapter basically presents the construction detail and photos for each section of the plane. At the end, there are a couple chapters that present the life and involvement with Spitfires (and other planes) of the author. And there is also one chapter which presents photos of some of the other awesome models built by David.
Here are some photos from the pages of the book.
(Click on photos to zoom in on them)
Available as a hardback and complete with dustjacket, the book boasts 192 large format pages (325 x 254mm), 240+ captioned color images, 20 mono images/diagrams and weighs in at 4.23lb (1.92kg).
The book retails at £39.99. Next day, signed for courier delivery is £3.00 (within the UK). Shipping to the USA is £20.00. Payment is easily made through PayPal which also takes care of the currency exchange rate. When I ordered my copy, I paid a total of $80.01 (US Dollars).
You can get more information about the book from this link: www.spitfireinmyworkshop.net
The book has LIMITED AVAILABILITY and is ONLY AVAILABLE TO BUY @ www.spitfireinmyworkshop.net/book
Publishers are Brown & Brown www.brownandbrown.co.uk
If you are into Spitfires, or craftsman level models, or beautiful aviation books, then I highly recommend a copy of this book. You will NOT be disappointed!