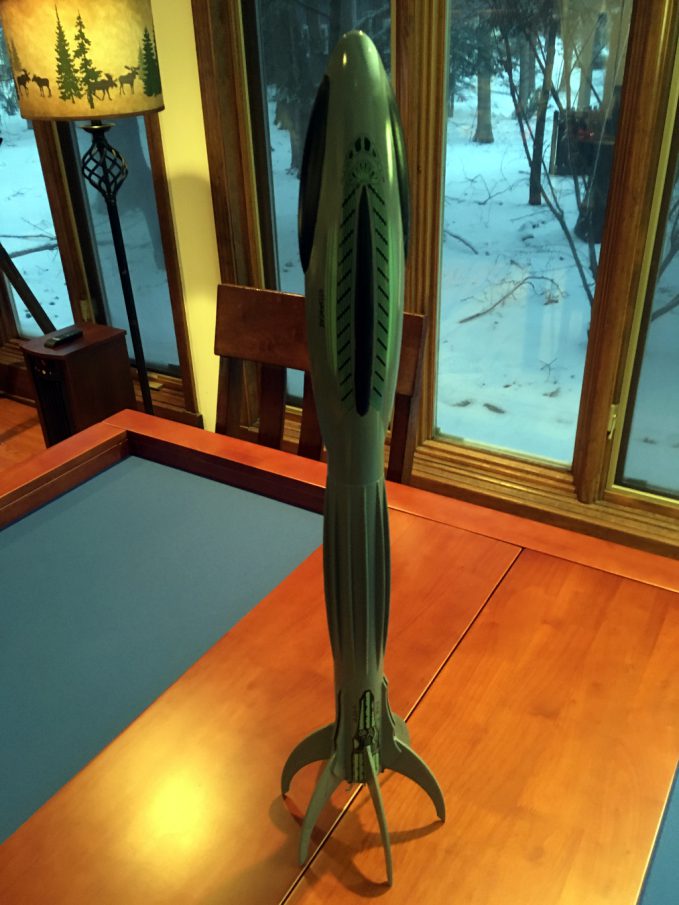 I was looking for something different to work on as a break from my other builds and since it had been a couple years since I worked on building a rocket, I decided to take a look thru the ESTES model rockets catalog. I wanted something that build wise was more challenging than a Beginner kit but not as time  consuming as a Master level kit. I came across this new, really cool looking 'Space Corps' kit that was listed as an 'Advanced' level build…half way between Beginner and Master. I skipped all the 'space aliens' fluff listed in the catalog description and focused on the build specs. It met all my build criteria so I went for it!
The build itself went very smoothly and without issue. The only thing that was a bit tedious was sanding and installing the dozen balsa body tube strips that add detail to the center section of the rocket body. Also, the engine mount is supposed to accept an ESTES C11 or a D12 engine. The D12 engine that I have will only go into the mounting tube with great force and will then never come out so I didn't try to insert it more than a fraction of an inch. I don't have the appropriate size C engine but my expectation (hope!) is that it will fit in the engine tube with no issue.
I ran into a bit of an issue when painting the rocket and ended up having to repaint the upper section when the black paint ran into the gray. My repainting job is not perfect but it was good enough to move along and complete the build.
Altogether, I found this to be an easy, enjoyable build that I can recommend to anyone with more than just basic building skills. And I really like the cool looks of the rocket! Here is a brief FlyBoyz video that I put together to document the build. Enjoy!